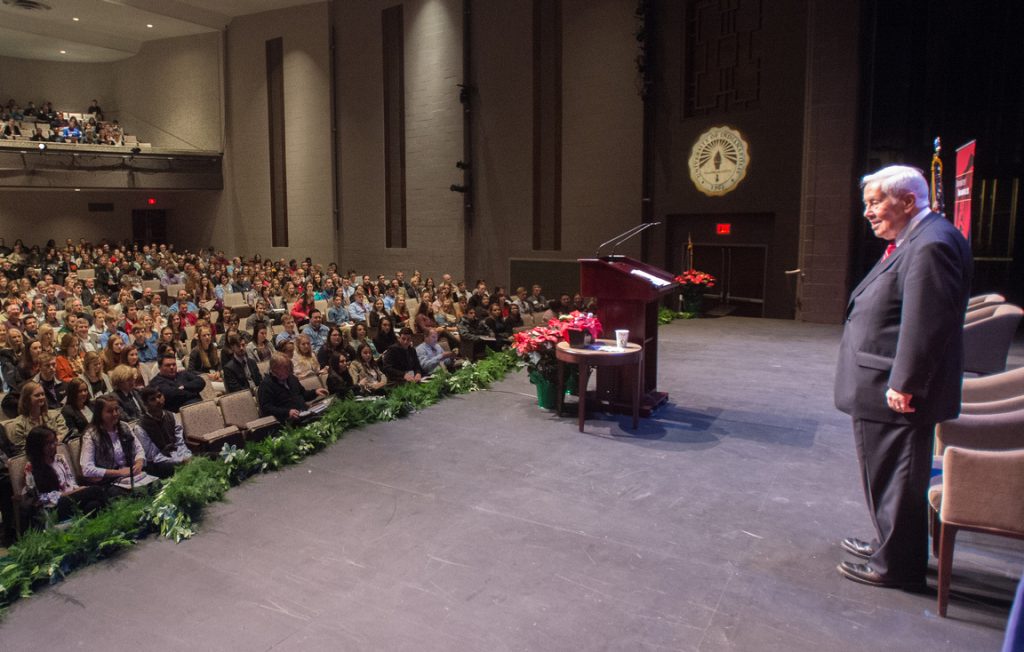 Nearly 450 high schoolers from throughout the state gathered Saturday at UIndy for the 39th annual Richard G. Lugar Symposium for Tomorrow's Leaders, which opened in Ransburg Auditorium with an address by the former senator.
NEWS COVERAGE:
WXIN, ​WTHR, ​WISH, WRTV, WTTV, IndyPolitics.org, Howey Politics Indiana
With the United States facing complicated challenges around the world – from Russia to China to the Middle East and even here at home – all citizens have a responsibility to stay informed and work toward solutions, former Sen. Richard Lugar told an audience of Indiana's best and brightest high school juniors today at the University of Indianapolis.
"These are basic issues that each American, young and old, has to ask for more information, has to develop more opinions, has to require more from the leaders of our country," he said in his keynote address at the 39th annual Lugar Symposium for Tomorrow's Leaders.
The event drew nearly 450 teens from more than 60 counties, along with accompanying adults and members of the public, for a day of engagement on pressing public issues. After the morning program, lunch and group photos with Lugar, the students spent the afternoon in group discussions with UIndy faculty members and other experts on issues including terrorism, the refugee crisis, the 2016 presidential election and U.S. leadership in the world.
The senior statesman's morning address focused on key international concerns:
Read more