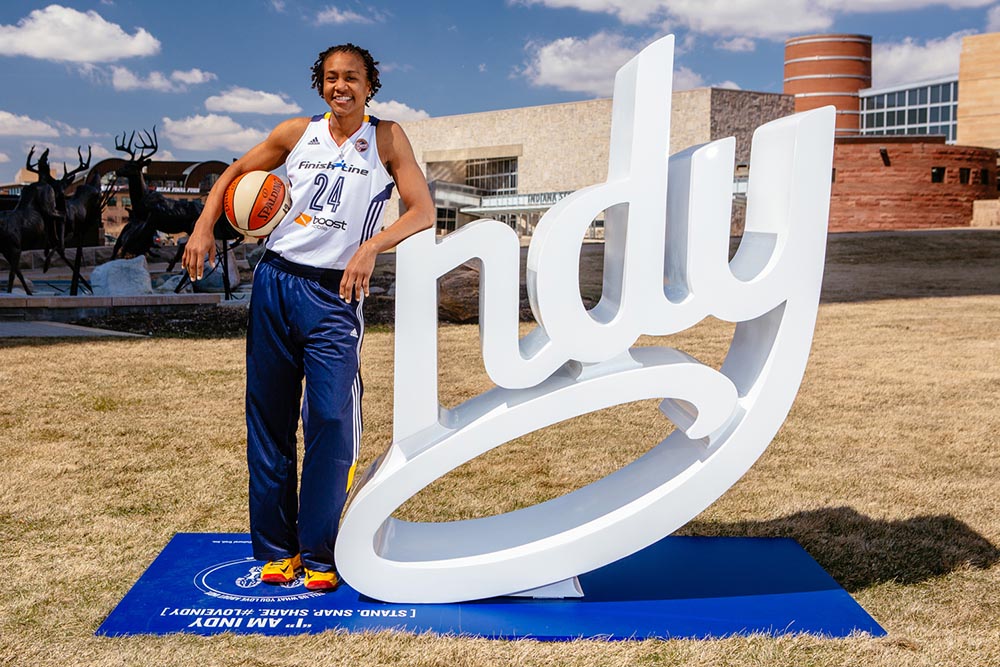 Indiana Fever star Tamika Catchings demonstrates the appropriate pose with an NDY sculpture, perhaps the one that will sit outside the Christel DeHaan Fine Arts Center through Oct. 21. (Photo courtesy Visit Indy)
UIndy campus is first Southside location for popular tourism initiative
The University of Indianapolis community and visitors will have a chance to "Be the 'I' in Indy" starting next week, when one of the city's popular "NDY" sculptures arrives on campus to set the stage for TEDxIndianapolis.
UIndy is a presenting sponsor and host site for the Oct. 20 idea conference, which will feature 16 speakers on various topics under the theme Keep It Simple.
The NDY initiative, developed by the Visit Indy organization to promote tourism, involves three 1,000-pound sculptures that are placed at various scenic sites around the city. Passers-by are invited to pose alongside for photos and share them on Facebook, Twitter or Instagram with the hashtag #LoveIndy.
University President Robert Manuel said the sculpture will be an engaging addition to the excitement surrounding TEDxIndianapolis, which also will enable visitors to see the progress taking place in the University Heights neighborhood through UIndy's strategic plan.
"This is a fun opportunity, especially for our students, to demonstrate the university's engagement with the city," Manuel said. "We also expect to see some creative approaches in adding a letter 'U' to the statement."