39.7684° N, 86.1581° W: CDFAC Gallery Exhibition (January 23 – February 17)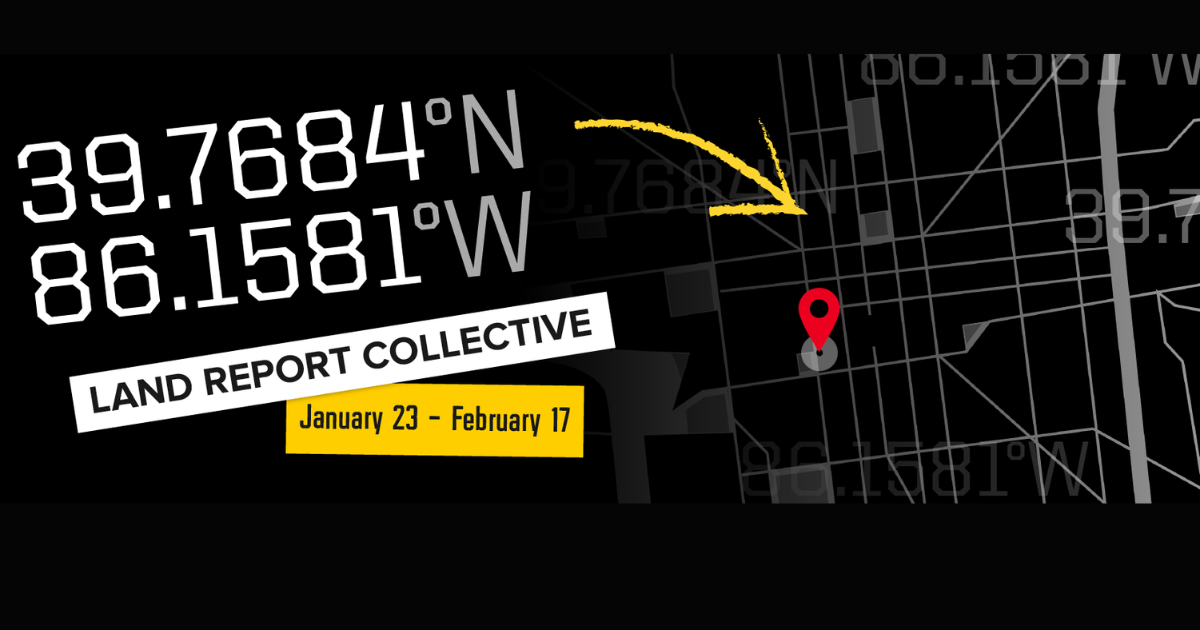 Date

February 17, 2023

Time

4:00 pm - 6:00 pm

University of Indianapolis
The reception will be held Friday, February 17 from 4 to 6 p.m.
The artwork in this exhibition is particularly focused on the impact of human development and agricultural production on natural landscapes, environmental issues related to extraction of natural resources, and industrial manipulation of wild places. The exhibition title 39.7684° N, 86.1581° W are the geographic coordinates of the gallery in Indianapolis. GPS data has also become emblematic of how digital tools and navigation are another way of experiencing landscape in contemporary culture.
Land Report Collective is a geographically disparate group of artists comprised of artists Leticia Bajuyo, Jason Sheridan Brown, Brian R. Jobe, David L. Jones, Patrick Kikut, and Shelby Shadwell, whose interdisciplinary artworks engage landscape as subject matter and also inspiration for conceptual ideas about land use and human relationships with the natural world.
Using artificial turf in this series of landscapes, Leticia Bajuyo's critical vision questions societal norms of lawn care and our comfort, containment, and control of nature in the pursuit of a "well-manicured lawn."
David Jones is fascinated with the ever-present energy economy in the American West where pump jacks, well pads, pipelines, open pit coal mines, and uranium mines proliferate the landscape as a glaring reminder of our absolute dependence on fossil fuels.
Shelby Shadwell's charcoal and pastel drawings of space blankets, known as solar, emergency or thermal blankets, and which are often packed in first aid kits, have more recently become a symbol associated with the border crisis between the US and Mexico.
Patrick Kikut's series of still life paintings feature food produced by Colorado River Basin agriculture and consumed throughout the nation and world.
Brian Jobe's artwork is at the intersection of design and architecture where the delineation of pathways, borders and boundaries become interactions.
Jason S. Brown's artwork explores mountainous landscapes and rural cultures through a series of projects that question the controversial practice of mountaintop removal coal mining that is now prevalent throughout Southern Appalachia.