Communiversity Lecture: Drs. Leah Milne and Emily Rutter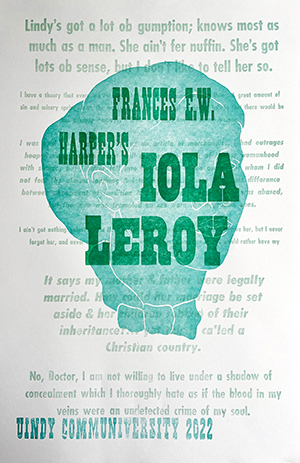 This event has ended
Date

October 25, 2022

Time

7:00 pm - 8:00 pm
Shaheen College of Arts and Sciences faculty and external scholars will lead four discussions (September through November) related to the themes of this year's Communiversity novel, Iola Leroy.
Dr. Leah Milne is Associate Professor of Multicultural American Literature and Director of Graduate Programs for the Department of English at UIndy.
Dr. Emily Rutter is Assistant Director of African American Studies at Ball State University.
They will speak together on Tuesday, Oct. 25, from 7 to 8 p.m. Community members as well as UIndy staff, faculty and students are invited to attend. You do not need to be a registered Communiversity student, nor do you need to have read the novel to attend and enjoy the lecture.
How to attend
Attend via webinar. Register to receive the link.