Eighth Annual Fairbanks Symposium – Environmental Justice in the Circle City: Past, Present, and Future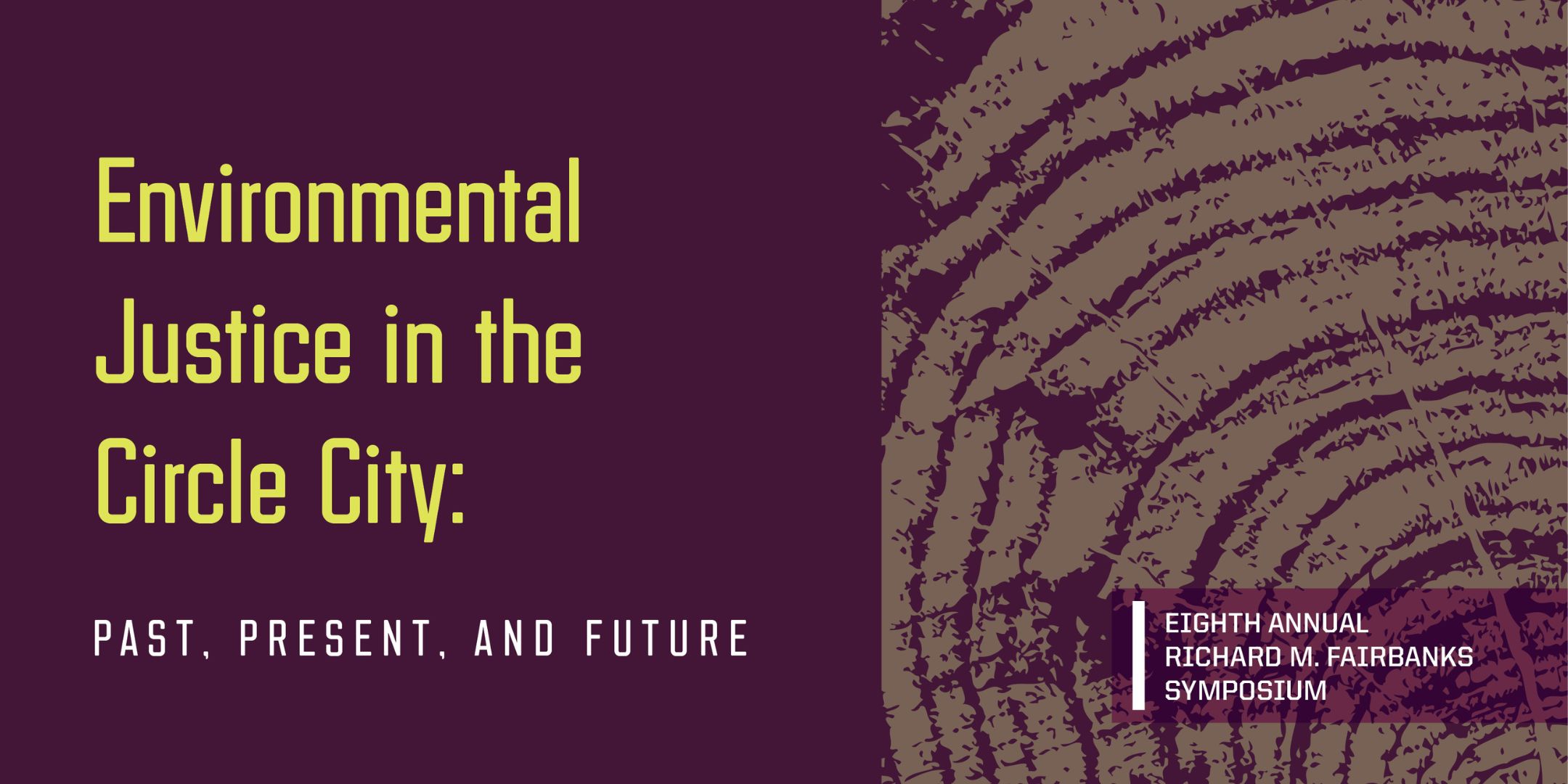 This event has ended
Date

March 7, 2023

Time

9:30 am - 2:30 pm

Schwitzer Student Center, University of Indianapolis

The University of Indianapolis and Indiana Humanities invites you to the 2023 Richard M. Fairbanks Symposium with a focus on Environmental Justice.
Building off the last decade of Fairbanks experiences, the 2023 symposium uses the theme of environmental justice to ask compelling questions about the ways in which civic leaders in Indianapolis, and throughout the country, can and should be dealing with issues of equity and the environment.
The Fairbanks Symposium, which began in 2013, brings together local and national leaders to discuss and analyze vital issues facing our communities, linking the historical legacy of past leaders to current and future trends. Previous keynotes have included Senator Richard Lugar and then-South Bend Mayor Pete Buttigieg.

REGISTER HERE
9:30 a.m.: Registration and networking
10:00 a.m.: Welcome Remarks
Phil Terry, Interim President of University of Indianapolis
Dr. Ted Frantz, Department Chair of History and Political Science
10:15 a.m.: Past Meets Present: How Has Environmental Policy Shaped Today's Indianapolis?
Panelists:
Elizabeth Kryder-Reid, Chancellor's Professor of Anthropology and Museum Studies at Indiana University, Indianapolis (IUPUI)
Britt Redd, Principal Planner for Land Use Strategy at the City of Indianapolis
Morgan Mickelson, Director of the Office of Sustainability at the City of Indianapolis
Mike O'Connor, Vice President, Global Government Affairs at Inotiv
11:30 a.m.: Lunch
Noon: INconversation with Denise Abdul-Rahman and Brian Payne
The keynote INconversation features special guests, Brian Payne, president and CEO of Central Indiana Community Foundation and Denise (Blackburn) Abdul-Rahman, co-manager of the Alignment Initiative, for The Chisholm Legacy Project. Denise is also a former National NAACP staffer for the environmental and climate justice program, building up the Indiana NAACP program as its state chair for over 10 years.
1:15 p.m.: Environmental Equity: How Do We Build a Just Future for Indianapolis?
Panelists:
Paula Brooks, Environmental Justice program manager for the Hoosier Environmental Council
Carly Weidman, Vice President of Stakeholder Engagement with Keep Indianapolis Beautiful
Tatjana Rebelle, Director of Equitable Initiatives for Earth Charter Indiana
Chioh Mwaafrika, Kheprw Institute Intern
2:15 p.m.: Closing remarks
Ticketing policy
Spots are available on a first-come, first-served basis. If all tickets are claimed, you will automatically be added to the waitlist and notified should additional seats open up. Stand-by tickets will be released approximately 10 minutes before the event begins.
About the Fairbanks Symposium
The Richard M. Fairbanks Symposium on Environmental Justice is hosted by the University of Indianapolis' Institute for Civic Leadership & Mayoral Archives, in partnership with Indiana Humanities. It is made possible through the generous support of the Richard M. Fairbanks Foundation.