University Series: Ethics of Human Migration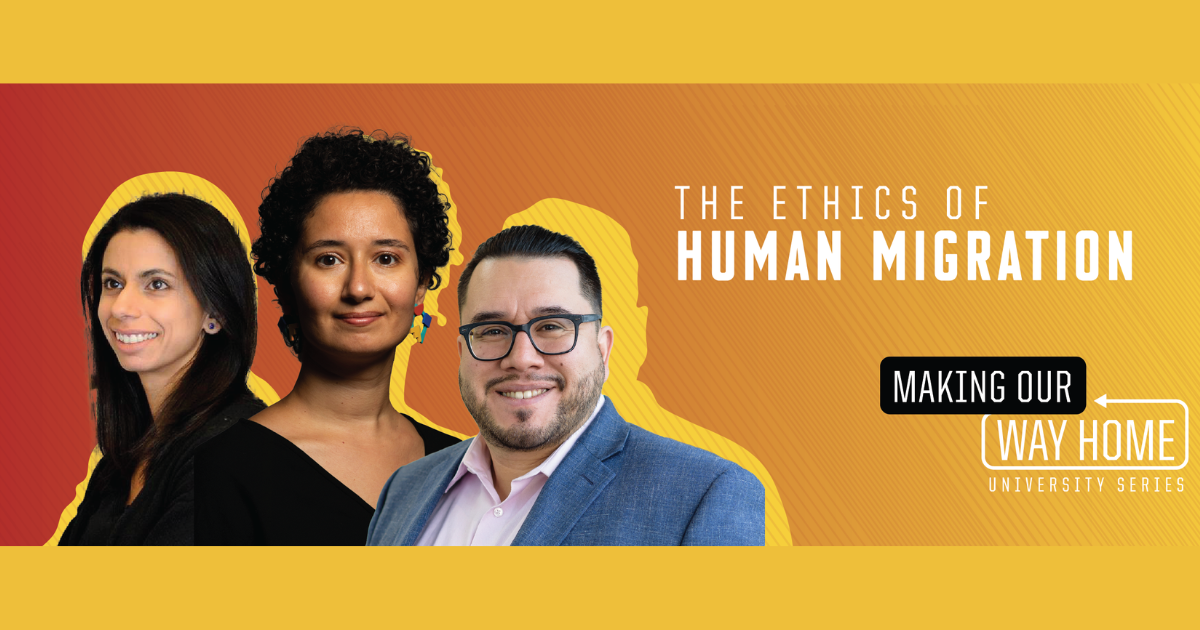 This event has ended
Date

February 20, 2023

Time

7:00 pm - 9:00 pm

Online
February 20 | 7 – 9 p.m. | Virtual
Click here to register for this event
Freedom of movement is widely considered to be a human right. The Universal Declaration of Human Rights asserts that every person has the right to move within the borders of a country and to leave and return to one's country. However, what about freedom of movement between countries? Human migration is restricted in many ways, including restrictions on permitted durations of stays, access to work, identification cards, and access to social services and resources. This panel will explore the ethics of three types of human migration: immigration, asylum seeking, and refuge seeking. Each type of migration gives rise to unique responsibilities and challenges, especially as it relates to restrictions on the freedom of movement and the enforcement of these restrictions. The panel will include time for presentations from our panelists, questions from our moderator, and questions from the audience.
Moderated by UIndy's Dr. Jyotika Saksena (International Relations).
Speaker Bios:
Serena Parekh is Distinguished Professor of Philosophy and Chair of the Department of Philosophy and Religion at Northeastern University in Boston. She is the author of three books, including her most recent book, No Refuge: Ethics and the Global Refugee Crisis (Oxford 2020), which won the North American Society for Social Philosophy Book Award, the Choice Outstanding Academic Title Award, the Falling Walls Global Call Award (Berlin, Germany), and was a finalist for the PROSE award for Philosophy from the Association of American Publishers. Her other books include Refugees and the Ethics of Forced Displacement (Routledge in 2017) and Hannah Arendt and the Challenge of Modernity: A Phenomenology of Human Rights (Routledge 2008), which was translated into Chinese. She is the former co-editor of the journal, Feminist Philosophy Quarterly. Her primary philosophical interests are in social and political philosophy, feminist theory, and continental philosophy. She has also published numerous articles on social and political philosophy in Hypatia, Philosophy and Social Criticism, and Human Rights Quarterly.
Ezgi Sertler is an Assistant Professor of Philosophy at Utah Valley University, where she also coordinates the Gender Studies Program. Her research spans feminist and social epistemologies, political philosophy, and migration studies. She is particularly interested in structural and epistemological analyses of institutions and administrative systems.

José Jorge Mendoza is an assistant professor of philosophy at the University of Washington and book review editor at Radical Philosophy Review. He is also the author of The Moral and Political Philosophy of Immigration: Liberty, Security, and Equality (Lexington Books 2017). His articles have appeared in venues such as the Journal of Speculative Philosophy, Public Affairs Quarterly, Critical Philosophy of Race, and Social Philosophy Today.