Quirky comedy wraps up UIndy Theatre season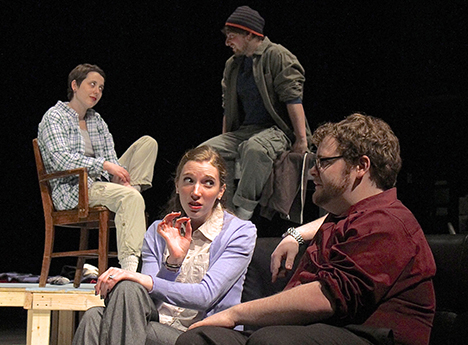 Clockwise from front left, Elise Campagna, Justess Hurst, Ross Percell and Nate Coder lead the cast of Love Song, a romantic comedy opening this week at UIndy.
A burglary transforms the life of an eccentric loner in the stage comedy Love Song, opening Friday at the University of Indianapolis.
Performances are at 8 p.m. April 11-13 and 24-26 in Ransburg Auditorium. Admission is free for UIndy faculty, staff and students with ID, $12 for the general public, and $10 for seniors, groups and non-UIndy students with ID. Tickets and more information are available at (317) 788-3251 or www.uindy.edu/arts.
The 2006 play by John Kolvenbach revolves around Beane (senior Ross Percell of Rushville), an increasingly isolated man who meets and falls in love with Molly (sophomore Justess Hurst of Indianapolis) after she breaks into his bare apartment. The mysterious relationship has an impact even on Beane's career-minded sister Joan (junior Elise Campagna of Goshen) and her husband, Harry (junior Nate Coder of Indianapolis). Freshman MacKinsey Taylor of Mooresville portrays the Waitress.
The final production of the Department of Theatre's 2013-2014 season, Love Song is directed by faculty member and stage veteran James Leagre. A free preview performance is at 8 p.m. Thursday.