Capt. Bubble Wrap saves students from stress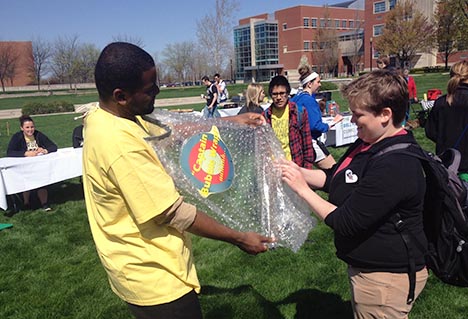 Senior Heather Zalewski (right) takes out her end-of-semester frustrations on Captain Bubble Wrap, alter ego of Warren Hall residence director Derrick Hicks.
Look! Out on Smith Mall! It's … a guy wearing a cape made of bubble wrap?
In a familiar sign that spring is here — and final exams are next week — UIndy's Counseling Center staged its annual "Dog Days" Wellness & Relaxation Fair on the mall Tuesday to help students relax, unwind and remember to take care of themselves even when pulling those late-night study sessions.
Passers-by were encouraged to pick up health tips and to pet several dogs brought in by UIndy folks and a greyhound rescue group. And in keeping with a superhero theme, the valiant Captain Bubble Wrap sacrificed his costume to anyone seeking stress relief through that satisfying popping action.