News: Science prof discusses love of teaching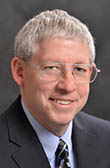 Dr. John Langdon, veteran professor of biology and anthropology at UIndy, was the focus of the "Hot Jobs" interview in Sunday's Indianapolis Star.
The weekly feature explores careers on the Indiana Department of Workforce Development's Hoosier Hot 50 jobs list, where postsecondary teaching ranks sixth.
Langdon, who has taught for three decades at UIndy and also serves as director of student and faculty research initiatives, says teaching is "in my blood." He also makes interesting observations about the distinction between research and teaching careers in higher education.
Read the interview here.