UIndy team plans archaeological survey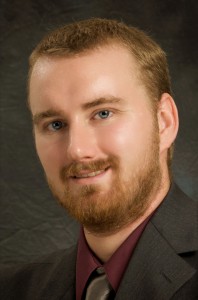 Assistant Professor Christopher Moore and a former student-turned-colleague are organizing a substantial archaeological project in southern Indiana's Floyd County.
Dr. Moore and UIndy research associate Rebecca Van Sessen are applying for a $50,000 state grant to conduct a countywide survey that will identify sites of interest, from the earliest prehistoric settlements along the Ohio River to 20th century houses and buildings. The goal is to create an official record of potential archaeological resources before they are lost to construction projects or the passage of time.
Van Sessen, who grew up in Floyd County, earned her master's degree in Anthropology from UIndy in 2013. Moore, who teaches in the departments of Anthropology and Physics & Earth-Space Sciences, also is a Greyhound alum, having earned his bachelor's degree in Archaeology and Anthropology from UIndy in 2004.
To support their application for funding from the state's Division of Historic Preservation and Archaeology, Moore and Van Sessen are gathering letters of support from local residents and permission slips from Floyd County landowners who are willing to allow surveys of their property. If the funding is obtained, they will lead a student team in conducting the survey during Summer 2015.
A columnist for the News and Tribune newspaper has written about the project here. To learn more about the scientists and their plans, visit the project website at floydcountyarchaeology.com.