Concert season to open with Maestro Leppard
Monday's gala event celebrates 20 years of Christel DeHaan Fine Arts Center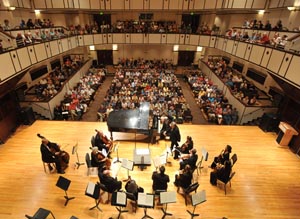 UPDATE: Concert review from Jay Harvey Upstage
Maestro Raymond Leppard will lead UIndy students and faculty soloists in Monday's opening performance of the 2014-2015 Faculty Artist Concert Series at the Christel DeHaan Fine Arts Center.
Now entering its 34th season, the acclaimed series features UIndy music faculty and distinguished guests performing historic and contemporary classical music and jazz. The 18 concerts take place on Monday evenings from September through March in the center's elegant Ruth Lilly Performance Hall. Admission is always free.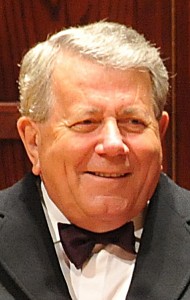 The Sept. 15 concert will celebrate the 20th anniversary of the DeHaan Center, which opened in 1994 to house the departments of Music and Art & Design. Its acoustically superior 500-seat performance hall, modeled after the legendary 1870 Musikverein concert hall in Vienna, Austria, has hosted appearances by pianist Andre Watts, cellist Janos Starker, soprano Kathleen Battle, the Prague Chamber Orchestra and the Guarneri, Juilliard, Tokyo and Emerson quartets, among other artists.
Performers at the opening concert will include UIndy's Festival Orchestra and choral ensembles along with soloists Austin Hartman, violin; Anne Reynolds, flute; Tamara Thweatt, flute; Kathleen Hacker, soprano; and Mitzi Westra, mezzo-soprano. Guiding them will be Leppard, conductor laureate of the Indianapolis Symphony Orchestra and artist-in-residence at the DeHaan Center since its opening.
The program will begin with Gustav Holst's spirited St. Paul's Suite for strings, J.S. Bach's Brandenburg Concerto No. 4 and excerpts from Handel's 1725 masterpiece, Rodelinda. After intermission, Leppard will talk with UIndy choral director Paul Krasnovsky about his distinguished career and his latest activities. He then will lead UIndy's choral ensembles and the Festival Orchestra in selections from Mozart's Mass in C Major, K. 257.
One of the most respected international conductors of our time, Maestro Leppard has appeared with most of the world's leading orchestras in his six decades on the podium. He has conducted more than 170 recordings, earning five Grammy awards, a Grand Prix Mondial du Disque, a Deutsche Schallplattenpreis and an Edison Prize.
The Faculty Artist Concert Series will continue Sept. 22 with a program of jazz standards featuring trombonist Freddie Mendoza, the new director of UIndy's Jazz Studies program. Joining him will be Steve Allee on piano, Steve Houghton on drums and UIndy alumnus Nick Tucker on bass.