Tyson proves he is rock star of public science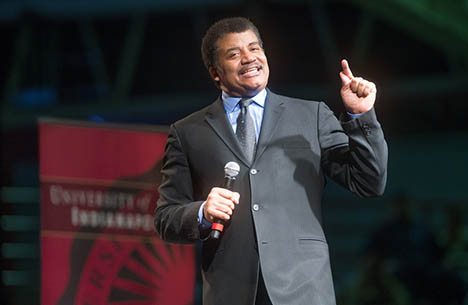 Author, TV host and astrophysicist Neil deGrasse Tyson spoke for nearly three hours Wednesday to a capacity crowd in UIndy's Nicoson Hall arena.
Internationally known astrophysicist Neil deGrasse Tyson hit the UIndy campus at 4 p.m. Wednesday for a small-group discussion with students, and he didn't stop presenting until 10:15 p.m., as he stood in the Nicoson Hall parking lot with a laser pointer, delighting a handful of faculty and staff with an impromptu astronomy talk.
For the six-hour period in between, the Cosmos and Nova host was a tireless dynamo — part professor, part standup comedian — showing why he has become one of the world's leading public ambassadors of science.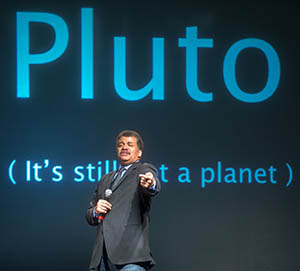 Most notably, Tyson spent nearly three hours on stage in the Nicoson arena, which he entered to screams and a standing ovation from a packed-to-the-rafters crowd of more than 4,000. Another 400-plus fans viewed the standing-room-only show on closed-circuit video in Ransburg Auditorium.
Speaking — or rather, performing — well past the allotted time, the director of New York's Hayden Planetarium roamed the stage and bantered with the audience while clicking through slides and breezing through a parade of topics, from the risk of asteroid collisions to his appearance in a Superman comic book.
He took special pleasure in debunking common pop-culture misconceptions about astronomy, noting that a so-called "super moon" is imperceptibly larger than a regular full moon and explaining, without apology and with apparent relish, why Pluto doesn't deserve to be called a planet. Amid frequent humor, the talk included many substantive observations, as he noted America's declining primacy in basic scientific research and expressed disappointment in the U.S. space program.
"NASA is driving around the block, boldly going where hundreds have gone before," he quipped.
At one point, Tyson took a cell call and held his phone up to the microphone. It was his comrade Bill Nye the Science Guy, who offered his own words of inspiration: "You can change the world," Nye said to the astonished crowd. "Go Greyhounds!"
Today's Indianapolis Star carries an excellent recounting of the main presentation by reporter Shari Rudavski, who interviewed Tyson for a preview story in August and also conducted a contest that awarded coveted tickets to three local middle and high school students and their guests.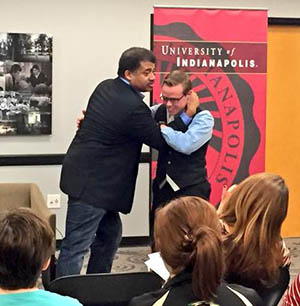 The whirlwind UIndy tour began with an informal hour-long chat before a select group of students. "I think of myself as a servant to the public's appetite for the universe," he said. Asked by sophomore Biology major and wrestler Trace Plaugher about his own student wresting career, Tyson called Plaugher up and demonstrated an original move called "the Double Tidal Lock," which he compared to the gravitational interplay between two planets. He also addressed a VIP crowd at a reception preceding the main event.
Tyson's visit was part of UIndy's Blanche E. Penrod Lecture Series and was sponsored in part by Graystone Consulting, Monarch Beverage Co., Krieg Devault LLP and RJE Business Interiors.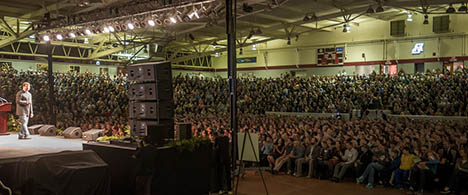 More than 4,000 spectators crowded into Nicoson Hall for Tyson's appearance, many of whom began lining up outside at 4 p.m. for the 7 p.m. event. The free tickets were snapped up in minutes when released in September.