Ceremony marks milestone for Health Pavilion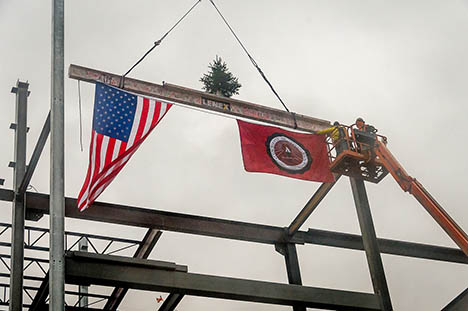 Rain didn't dampen spirits Tuesday when UIndy conducted a topping out ceremony for the Health Pavilion, now under construction and set to open in August 2015.
Marking a milestone in the process, the final beam in the four-story structure's steel frame was hoisted into place before a crowd of observers.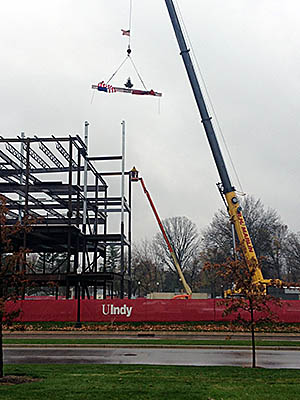 Topping out ceremonies are a longtime practice among ironworkers, with roots in European and North American folk traditions. In this case, the 30-foot beam had been resting since Homecoming Week in the atrium of Schwitzer Student Center, where students, faculty, staff, alumni and visitors signed their names and sealed their places in campus history.
Many of those same people gathered at 2 p.m. in Nicoson Hall for a short program of remarks from President Robert Manuel, Board of Trustees Vice Chair Yvonne Shaheen, interim Associate Provost Ellen Miller and university co-chaplain Jeremiah Gibbs. Afterward, they huddled under the building's awning to watch the action at the construction site across Hanna Avenue. As is customary in topping out ceremonies, an American flag and a small evergreen tree – as well as a UIndy flag – were attached to the beam.
The Health Pavilion will be the new home for UIndy's programs in nursing, physical therapy, occupational therapy, psychology, kinesiology, athletic training and social work, as well as the Center for Aging & Community. The 160,000-square-foot collaborative learning environment was designed by CSO Architects for developer Strategic Capital Partners, with construction being overseen by Pepper Construction Group. The project is part of a five-year, $50 million development plan the university announced earlier this year to lay the foundation for future growth.