Pro Edge event explores business of sports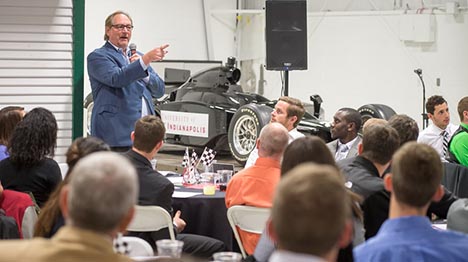 Auto dealer, racing team owner and UIndy alum and trustee Dennis Reinbold addresses students, faculty and alumni Wednesday during a Professional Edge Center networking event at the Dreyer & Reinbold Racing Shop.
Students and young alumni interested in "The Business of Sports" enjoyed some firsthand perspective Wednesday from key local leaders in the field.
The dinner, discussion and networking event, sponsored by UIndy's Professional Edge Center, took place at the Dreyer & Reinbold Racing Shop and featured Anucha Browne, vice president of the NCAA Women's Basketball Championships; Kelly Krauskopf, president and general manager of the Indiana Fever; Ersal Ozdemir, president/CEO of Keystone Construction, owner/founder of the Indy Eleven soccer team and member of the UIndy Board of Trustees; Dennis Reinbold, president/CEO of Dreyer & Reinbold, as well as a UIndy alumnus and trustee; and Joel Zawacki, also a UIndy alum and director of Corporate Sales & Marketing for the Indianapolis Indians.
Wednesday's event followed a similar Professional Edge networking opportunity Nov. 13 at the Columbia Club, this one aimed at student leaders and those interested in public service careers. The panelists included former Senator Richard Lugar, now a distinguished professor of Political Science and International Relations at UIndy; Jeff Mitchell, lead sales professional for Airwatch and a former Greyhound quarterback; Ryan Vaughn, president of the Indiana Sports Corp.; and Indiana State Rep. Justin Moed.
The Professional Edge Center works with local employers and professionals to develop internship, mentorship, entrepreneurship and employment opportunities for students and recent graduates. The center also seeks to create career pipelines in entrepreneurship and in business sectors that are important to the Indiana economy and tied to UIndy's academic programs and expertise. More information on the Professional Edge Center is available at www.uindy.edu/professional-edge.