Pastors, author to discuss same-sex marriage
What does the Bible really say about same-sex marriage? Eighty United Methodist Church pastors have registered for a Dec. 3 conference at UIndy to discuss that very question, and the morning keynote presentation is open to the campus community and the public.
The topic is undoubtedly controversial, says event organizer Michael Cartwright, dean of Ecumenical & Interfaith Programs at UIndy and himself an ordained UMC elder. That's why he titled the conference Can We Talk? The Bible and Same-Sex Marriage, hoping to spark a positive dialogue that looks beyond easy answers.
"You don't have to agree with one another, but you can learn from the conversation," Cartwright says.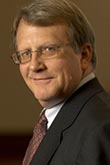 The open session from 10 to 11:20 a.m. in McCleary Chapel will feature Mark Achtemeier, a Presbyterian minister and author of The Bible's Yes to Same-Sex Marriage: An Evangelical's Change of Heart. Achtemeier's presentation will be followed by brief responses from Cartwright and colleague Perry Kea, both associate professors in UIndy's Department of Philosophy & Religion, reflecting their scholarly perspectives. Attendees who are not registered for the overall conference will be welcome to remain in the chapel afterward for further discussion.
The conference will continue with lunch, an afternoon panel discussion and other activities for registered participants. The conference is at capacity, and registration is closed.
More information is available from Dr. Cartwright at mcartwright@uindy.edu.