Faculty Forum explores TB and Christmas Seals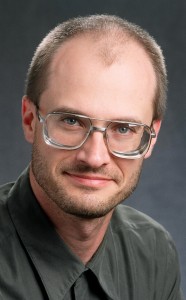 Professor Stephen Nawrocki is perhaps best known for his work in forensic anthropology, but he'll reveal a different interest during this month's Faculty Forum.
"The Scourge of Tuberculosis and the Christmas Seal Campaign" is the topic of Nawrocki's presentation at noon Wednesday in the Trustees Dining Room of Schwitzer Student Center. Refreshments will be served, and bag lunches are welcome.
The talk will explore the National Tuberculosis Association's innovative fundraising venture, Christmas Seals, which supported public education and mobile X-ray testing that helped nearly eradicate the deadly disease by the 1970s.
"My presentation will trace the design, distribution, associated publicity, and cultural significance of these humble little pieces of colorful paper," he says.