Coming soon to The Perk: Starbucks coffee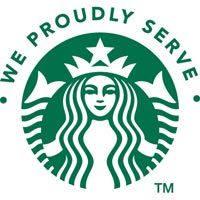 It's the news many caffeine-craving Greyhounds have been waiting for: In January, The Perk will begin serving Starbucks products.
UIndy Dining Services has joined the coffee behemoth's "We Proudly Serve …" program, which will bring Starbucks equipment, coffees, Frappuccinos, Tazo Teas and flavor syrups to the coffee shop in Schwitzer Student Center, said Kory Vitangeli, Dean of Students and Vice President for Student and Campus Affairs.
The Perk will retain its friendly service and convenient location, as well as its current selection of pastries. And it will continue to accept cash, credit, meal plan swipes and Crimson Cash.
There is no truth to the rumor, however, that the mysterious Starbucks siren (pictured above) will become UIndy's new athletic mascot.