Progress continues on UIndy Health Pavilion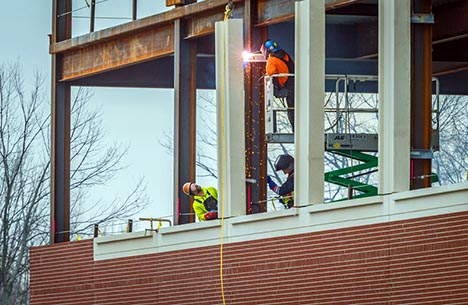 No longer just an imposing steel framework at the corner of Hanna and State avenues, the UIndy Health Pavilion is starting to look more like that building we've seen in the drawings.
Late last week, a crew from Sofco Erectors began attaching enormous concrete and brick facing panels — each weighing 16,500 pounds — to the exterior. The plan is to get the outer walls in place so the interior construction can continue regardless of weather.
The four-story Health Pavilion will open in August 2015 as the new home for the allied health programs that comprise about half of UIndy's enrollment, including the School of Nursing, Krannert School of Physical Therapy, School of Occupational Therapy, School of Psychological Sciences, Athletic Training Program, the departments of Kinesiology and Social Work, and the Center for Aging & Community. Conceived to foster collaboration among the various disciplines, the building also will house clinical facilities that will serve the public while providing hands-on learning and research opportunities for students and faculty.
The 160,000-square-foot structure was designed by local firm CSO Architects for developer Strategic Capital Partners, with construction overseen by Pepper Construction Group.