Prof's grant supports Japan travel-study course
Through Friday, students still have an opportunity to register for a special online course and overseas trip this semester to learn more about the impact of the atomic bombing of Japan in 1945 and the peace movement that has arisen from it.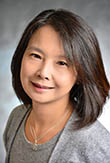 Professor Kyoko Amano, chair of the Department of English, has been awarded a $24,000 grant from the Japan Foundation to help fund a group tour of Japan over Spring Break and to create a peace exhibit she is coordinating this summer, to coincide with the 70th anniversary of the U.S. bombing. Co-leading the trip from March 6 to 15 is Associate Professor Jyotika Saksena, director of UIndy's master's program in International Relations. The cost for students will be just $1,500.
The course, English 420/580, is open to all UIndy undergraduate and graduate students and fulfills the Global/Local Experiential general education requirement. The travel fee includes air fare, a Japan Rail pass, hotel accommodations, museum/temple entrance fees and some meals. Activities will include listening to A-bomb survivors' testimonies in Hiroshima and Nagasaki, hearing about a former Japanese internment camp resident's experience of being repatriated from the U.S. to Japan, visiting the United Nations Institute for Training and Research and staying at a monastery in Kyoto.
For more information, contact Dr. Amano at amano@uindy.edu.