In the news: Health Sciences and hoops
Dr. Stephanie Piper Kelly, dean of the College of Health Sciences, is the subject of this weekend's "5 Questions" feature in The Indianapolis Star's business section.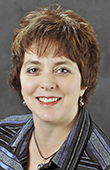 In the interview, Dr. Kelly talks about her career path in physical therapy, which began with a UIndy degree, and the possibilities presented by the now-under-construction Health Pavilion, where the university's programs in physical therapy, occupational therapy, kinesiology, nursing, psychology, gerontology, athletic training and social work will move in together this summer.
"The best part of my job is having the opportunity to lead a tremendous group of faculty who are passionate about their teaching, research and students," she says.
The story should appear in print Sunday, but you can read it online here.
*               *               *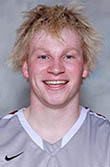 Thursday's grudge match against the rival Bellarmine Knights of Louisville brought some media attention to the undefeated UIndy men's basketball team. The Indy Star weighed in today with an update on the Greyhounds' 14-0 season in the form of a feature story on scrappy, playmaking point guard Lucas Barker. The junior Sport Management major, who hails from Australia, helped lead the Hounds to a hard-fought 66-62 win over Bellarmine.
"Our plan from Day 1 was to get better every day and hopefully be alive in late March, playing for the national championship," he tells sportswriter David Woods. Read the story here and see a short video interview with Barker here. The Star's photo gallery from the game is here.
The UIndy women's team had an easier time with Bellarmine on Thursday, winning 89-72 on scoring by Princess German (28 points), Nicole Anderson (25) and Kelly Walter (20). Read about that game here.