Faculty Forum: Prof's research week at Oxford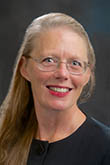 Dr. Greta Pennell, associate professor of Teacher Education, will recount her week of research at Oxford University for the next UIndy Faculty Forum, taking place Wednesday.
Pennell was a Summer Research Institute Fellow at Oxford's Harris Manchester College. Her talk, "More than Hogwarts and Humanities:  Reflections on the Harris Manchester College Summer Research Institute," will begin at noon Wednesday in the Trustee's Dining Room of Schwitzer Student Center.
"Imagine a week with almost unlimited access to one of the world's most comprehensive library collections, interdisciplinary collaborative opportunities, inspiring conversations over gourmet meals with scholars from around the world, and time to walk and reflect in centuries-old gardens," she says.
As always at the monthly Faculty Forum, refreshments will be served, and brown-bag lunches are welcome.