Young Adult author Katie Coyle to speak Feb. 5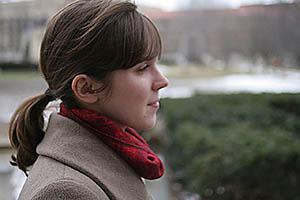 Author Katie Coyle, whose new Young Adult book made Rolling Stone's recent list of "The 40 Best YA Novels" of all time, will speak Feb. 5 for the next installment of UIndy's Kellogg Writers Series.
Coyle's debut novel, released first in the U.K. as Vivian Versus the Apocalypse and this year in the U.S. as Vivian Apple at the End of the World (Houghton Mifflin Harcourt), also has won the Guardian/Hot Key Young Writers Prize, among other accolades.
The protagonist is a 17-year-old girl whose parents seemingly disappear in a Rapture-like event, putting her at odds with a sinister Church of America and sending her on the road in search of answers. A sequel, Vivian Apple Needs a Miracle, is due later this year.
Coyle will read and discuss her work at 7:30 p.m. Feb. 5 in Room 010 of UIndy's Schwitzer Student Center, 1400 E. Hanna Ave. Admission is free.
Also known for her short stories and social media presence, Coyle grew up in New Jersey and holds a Master of Fine Arts from the University of Pittsburgh. She now lives in San Francisco with her husband and blogs at katiecoyle.com.
The Allen & Helen Kellogg Writers Series, coordinated by UIndy's Department of English, brings writers of distinction to campus for free public readings and discussions. More information is available at (317) 788-3373 or uindy.edu/arts.