Acclaimed vocal ensemble to perform Feb. 22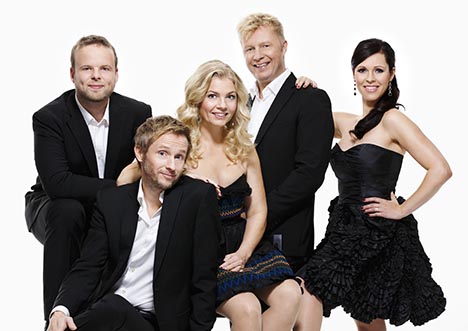 The Real Group, from left, Morten Vinther, Anders Edenroth, Katarina Henryson, Anders Jalkéus and Emma Nilsdotter, is celebrating its 30th anniversary.
Swedish quintet The Real Group known for innovative a cappella work
Groundbreaking Swedish vocal ensemble The Real Group will appear Feb. 22 at the University of Indianapolis as part of the ongoing 20th anniversary season of UIndy's Christel DeHaan Fine Arts Center.
Known for its a cappella arrangements of jazz and pop tunes, as well as Nordic choral music, the quintet will perform at 4 p.m. in the arts center's Ruth Lilly Performance Hall. Tickets are $20 general admission and $10 for students and seniors, with discounts available for groups of five or more. Tickets and information are available through the UIndy Event Ticking Center at www.uindy.edu/etc or (317) 788-3251. UIndy students, faculty and staff are entitled to one free ticket.
Now celebrating its own 30th anniversary and wrapping up a U.S. tour before returning to Europe in March, The Real Group formed at the Royal College of Music in Stockholm and has since released more than 20 albums and performed thousands of concerts worldwide.
Its members, most of whom have been aboard since the group's founding, are Emma Nilsdotter, Katarina Henryson, Anders Edenroth, Morten Vinther and Anders Jalkéus. They claim Bobby McFerrin as an influence and have drawn comparisons to the 1950s and '60s jazz vocal trio Lambert, Hendricks and Ross, though they often surprise audiences with renditions of classic rock and contemporary pop tunes. More information on the group is available at www.therealgroup.se.
In addition to the Sunday afternoon concert, The Real Group will present a two-hour workshop for UIndy students and local school choral groups at 4 p.m. Friday, Feb. 20, in Ruth Lilly Performance Hall. Admission to the workshop is free and open to the public.