Art exhibition inspired by Mexican game cards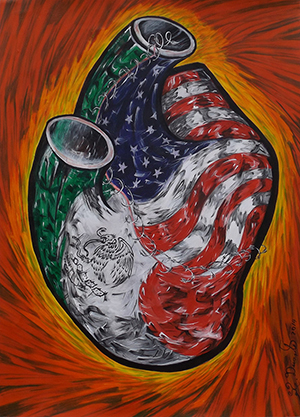 Born in Mexico and now based in Chicago, painter and muralist Hector Duarte explores themes of migration, identity, freedom and culture in a solo exhibition opening Monday, Feb. 16, at UIndy.
Featuring more than 20 acrylic paintings, some 10 to 20 feet wide, Lotería: Reflections of Life and Luck will be on display through March 20 in UIndy's Christel DeHaan Fine Arts Center Gallery, 1400 E. Hanna Ave. Gallery hours are 9 a.m. to 9 p.m. weekdays, and admission is free.
An opening artist reception is scheduled 4 to 6 p.m. Monday in the gallery. More information is available at (317) 788-3253 or www.uindy.edu/arts/art.
Many of the works are inspired by images from a Mexican game of chance, lotería, which is similar to bingo but uses a deck of cards, each bearing a drawing of a familiar object or character. The game has long provided fuel to artists including Duarte, whose large-scale mural "Lotería" was named best work of public art for 1995 by the Chicago Bar Association.
Duarte was born in Michoacan, Mexico, in 1952 and exhibited his studio work widely in central Mexico before moving to Chicago in 1985. In Chicago, he has been active in public art, working on more than 40 murals. His work often reflects contemporary and historical human struggles.
"Through my paintings, I hope to seek out and contribute to the beauty and sanctity inherent in meaningful struggle and pain," he says.
Duarte also has exhibited paintings, prints and installations at such venues as the State of Illinois Gallery, the Mexican Fine Arts Center Museum, the Mexican Consulate in Chicago, the Chicago Cultural Center and the School of the Art Institute of Chicago.