Friday career fair features over 50 employers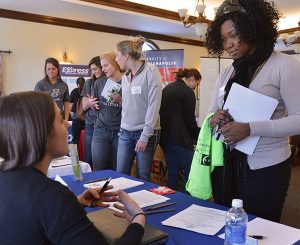 Students looking for internships or full-time positions in their fields of interest should check out the Professional Edge Center's Spring Career Fair, scheduled 1 to 3 p.m. Friday in Schwitzer Student Center's UIndy Hall.
The event will feature representatives from more than 50 employers in a range of industries, including government, finance, accounting, health and wellness, transportation, education and nonprofit work. Business attire and a professional demeanor are strongly encouraged.
A full list of employers can be found by logging in at uindy.joinhandshake.com or by visiting the Professional Edge Center in Stierwalt Alumni House.
The center works with local employers, professionals and UIndy alumni to develop internship, mentorship, entrepreneurship and employment opportunities for students and new graduates. More information on its programs and services is available at www.uindy.edu/professional-edge.