Provost's Lecture to feature latest PT research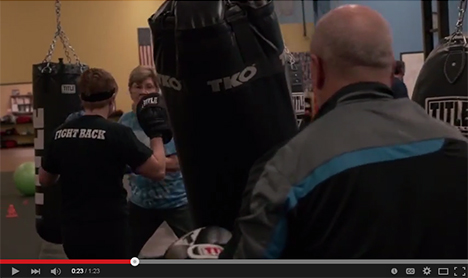 Watch video excerpt: Fighting Parkinson's 
Boxing training helps Parkinson's patients maintain quality of life
Though participants have reported anecdotal success for years, new research by the University of Indianapolis provides evidence for the first time that people with Parkinson's disease who participate in boxing training maintain greater physical ability and quality of life than those who participate in other modes of exercise.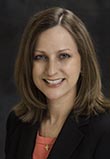 "We found that people who exercise in a boxing program demonstrate a higher level of function," said Associate Professor Stephanie Combs-Miller of UIndy's Krannert School of Physical Therapy, who will discuss this and other research in the sixth annual Provost's Lecture. Her presentation, "The Quest for New Paradigms in Physical Therapy Practice," will begin at 4:30 p.m. Thursday in Schwitzer Student Center's UIndy Hall.
The longitudinal study by Combs-Miller and her students involved 88 central Indiana volunteers with Parkinson's disease, half of whom participated in Rock Steady Boxing, a regimen that includes lateral foot work, bag punching, stretching, resistance exercises and aerobic training. Founded locally in 2006 by Parkinson's patient and former Marion County Prosecutor Scott Newman, Rock Steady Boxing has spread to locations across the country and around the globe.
Every six months for a two-year period, the UIndy students conducted standard physical therapy assessments of the study subjects and also surveyed them on quality-of-life issues. Among other results, they found that boxers demonstrated significantly better balance and walking function over time, as well as greater distance on a functional reach test, compared to people who chose other forms of exercise. The survey responses also indicated a higher perceived quality of life among the Rock Steady participants.
The findings reinforce the notion that boxing training is a safe and feasible non-traditional mode of exercise for people with Parkinson's and that boxing-related concepts can be effective in community-based settings and incorporated into the clinical practices of physical therapists. The key may not be boxing per se, but instead the unique combination of activities that are common to boxing training, said Combs-Miller, director of research for the Krannert School of Physical Therapy. The Rock Steady Boxing program is "multimodal" she said, enhancing strength, agility, endurance, flexibility and other positive traits.
"I think it's the collection of all these elements that is working for these people," she said. "People don't necessarily have to put on boxing gloves."
Combs-Miller's presentation Thursday also will address her broader interest in using physical therapy to improve the lives of people with neurological disorders stemming from stroke, Parkinson's and other causes. The quest for new paradigms often involves taking physical therapy beyond traditional laboratory and clinical settings and into ordinary places where patients face the challenges of daily life.
The Provost's Lecture is part of UIndy's annual University Series, events designed to foster campus discussions on the university's four learning goals: social responsibility, creativity, performance and critical thinking. This year's series explores creativity under the theme Seeking Eureka.