Writer Danticat to speak at commencement
May 2 ceremony at Key Stadium will include two student speakers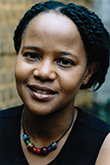 Award-winning writer and MacArthur Fellowship winner Edwidge Danticat will be the featured speaker and honorary degree recipient for this year's commencement exercises at the University of Indianapolis.
Danticat will read from her work and receive an honorary Doctor of Letters degree at the May 2 event in UIndy's Key Stadium.
The 11 a.m. ceremony also will include remarks from two graduating students, one representing undergraduates and one representing graduate students. Candidates nominated by their classmates are preparing short videos explaining why they want to speak, and an upcoming campus vote will select the two winners.
Born in Haiti in 1969, Danticat spoke little English when she moved to the United States at age 12. She soon began writing in her adopted language, however, and earned a Master of Fine Arts from Brown University, later teaching creative writing at New York University and the University of Miami. She has distinguished herself as a novelist and short fiction writer as well as an essayist, editor of story collections and collaborator on film projects. Her work has focused on the history of Haiti, the Haitian-American immigrant experience, and issues of gender and family dynamics.
A short list of her awards includes the Pushcart Prize for her short fiction, which has appeared in The New Yorker and the New York Times; an Oprah Book Club selection for her 1994 debut novel, Breath, Eyes, Memory; a National Book Award nomination for her 1996 story collection Krik? Krak!; National Book Critics Circle and PEN/Faulkner nominations for her 2004 story collection The Dew Breaker; and the National Book Critics Circle Award, the Dayton Literary Peace Prize, and another National Book Award nomination for her 2007 memoir Brother, I'm Dying. In 2009, Danticat was named to the prestigious MacArthur Fellows program, receiving its $500,000 "genius" grant.
Danticat's fourth and latest novel for adult readers, Claire of the Sea Light, was published in 2013, and her third novel for Young Adult readers, Untwine, is expected later this year.