Senior named state's top student journalist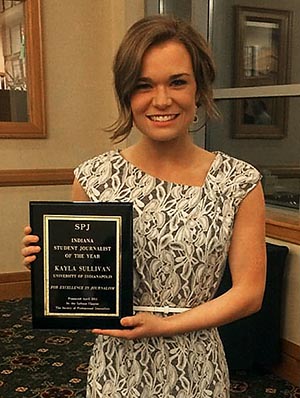 UIndy senior Kayla Sullivan has been named Student Journalist of the Year by the Indiana Professional Chapter of the Society of Professional Journalists.
The statewide honor, which recognizes an Indiana student journalist or team with the most outstanding body of work during the contest period, was presented Friday at the group's annual awards banquet.
Sullivan, a Communication major and graduate of Franklin Central High School, has been active in UIndy's student news operations throughout her time on campus, serving this year as news director for UIndy TV. She will graduate Saturday and begin work next week as a reporter for WLFI-TV in Lafayette.
Faculty member Scott Uecker, a veteran broadcaster who serves as general manager of UIndy TV and WICR-FM/HD, calls her "a leader in our program as well as a valuable and respected peer to her classmates."
"Kayla Sullivan gives me great hope for the future of journalism," Uecker says. "She understands that journalism is about telling stories well, keeping public officials accountable, and practicing the craft in a professional and ethical manner."
Sullivan's work this past year included co-anchoring live coverage of the November election for WICR, with five-minute updates every 30 minutes that included live field reports and interviews with in-studio analysts. Prior to the election, she produced a written guide to educate student field reporters on the races and candidates of interest.
As a student, Sullivan has benefited from internships at local stations WXIN, WISH and WTHR. She also served as president of the UIndy student chapter of SPJ, organizing campus events featuring broadcast professionals.