Student speakers ready to launch their careers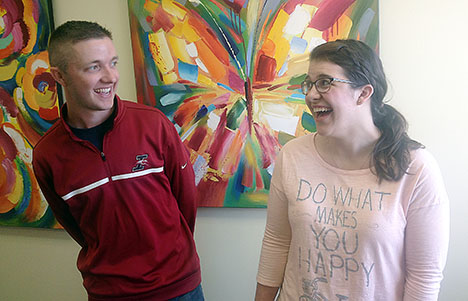 Grad student Brandon White and undergrad Emily Bielefeld, student speakers for Saturday's Commencement ceremony, have very clear plans after graduation.
She's a double major in Information Systems and Operations & Supply Chain Management, soon to begin a full-time gig at Eli Lilly & Co. He's getting his MA in International Relations, eyeing a career in foreign affairs or defense policy — but only after serving his second congressional internship in D.C. and joining the U.S. Army Reserve.
Emily Bielefeld and Brandon White won selection to be the student speakers for Commencement 2015, which begins at 11 a.m. Saturday in Key Stadium. The ceremony also will include a reading by internationally acclaimed author Edwidge Danticat, who will receive an honorary Doctor of Letters degree.
Undergraduate speaker Bielefeld is a 2011 Westfield High School graduate, daughter of Chris and Beth Bielefeld. Her time at UIndy has included serving as an RA in Warren Hall.
In June, however, she will start work as an associate of project planning for Lilly, the global pharmaceutical giant. She landed the post back in October, after apparently impressing the staff during her internship there last summer.
"I am beyond excited to start my job," Bielefeld says, expressing gratitude to her professors for their support and encouragement. "I am definitely going to miss them. I'm glad that I'm not going to be too far away from my alma mater after graduation."
Representing graduate students with his remarks Saturday will be White, a 2009 grad of Silver Creek High School in Sellersburg, where his parents Randy and Carol White live. To launch his career, he is relocating after graduation to the nation's capital, where he interned last summer with U.S. Rep. Todd Young of Indiana's 9th District and will intern this summer with U.S. Rep. Paul Cook of California, a member of the House Foreign Affairs and Armed Services committees.
Meanwhile, he'll be joining the U.S. Army Reserve to become one of its Civil Affairs specialists, assisting military and emergency response operations around the world by serving as a liaison to local residents, civilian aid agencies and other groups. To be clear, that's a side project to support his broader career goals.
"It provides a certain level of credibility if I'm going to be working in foreign affairs or defense," he says.
No doubt it will.