Sun shines on Commencement 2015 festivities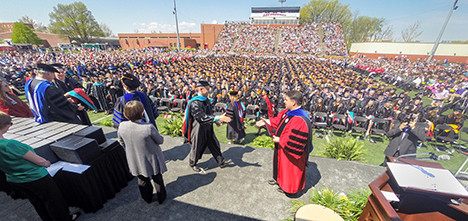 Beautiful weather greeted thousands of UIndy graduates and their loved ones Saturday for Commencement 2015 at Key Stadium. Nearly 1,400 undergraduates and graduate students from 25 states and 24 nations were eligible to participate in the ceremony, one of the largest graduating classes in the university's history.
In the photos below, graduates take up President Robert Manuel's invitation to announce their arrival to the world via social media; President Manuel and Executive VP and Provost Deborah Balogh present an honorary degree to acclaimed author Edwidge Danticat; and the new Health Pavilion looms above the mortarboards on Kiesel Field.
See more photos on the UIndy Facebook page.