PT prof's boxing research sparks call from CBS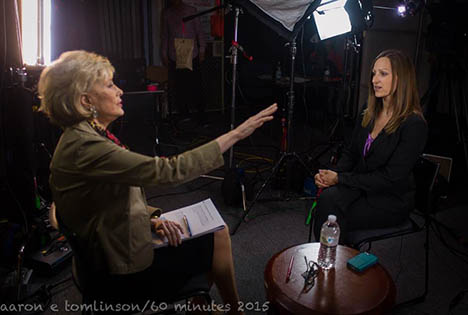 UIndy physical therapy professor Stephanie Combs-Miller, right, talks with veteran journalist Lesley Stahl in New York for a story to air on CBS Sunday Morning.
Associate Professor Stephanie Combs-Miller's groundbreaking research earned her a day in New York City recently to record an interview for CBS Sunday Morning.
The story, scheduled to air this fall, involves veteran broadcaster Lesley Stahl and her husband, journalist and screenwriter Aaron Latham. Latham has Parkinson's disease and has benefited from Rock Steady Boxing, an unconventional therapy regimen that originated in Indianapolis and is now offered across the nation and overseas.
A two-year study by Dr. Combs-Miller and her students in UIndy's Krannert School of Physical Therapy produced the first scientific evidence that the multifaceted boxing training is more effective than conventional modes of exercise in helping people with Parkinson's to maintain or even improve physical ability and quality of life.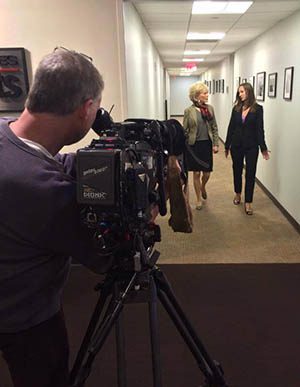 The trip to the Big Apple on June 24 was brief but exciting, Combs-Miller said. She flew in around 11 a.m., went straight to the CBS studios in Manhattan and talked with Stahl for nearly two hours as the cameras rolled. The longtime 60 Minutes correspondent was "all business" as the interview began, but the conversation grew more personal as Stahl began speaking from her own experience.
"At the beginning, I was nervous," said Combs-Miller, who was recently named Director of Research for the College of Health Sciences. "But as we started talking, I became so much more comfortable, because I realized this is really just a conversation with a caregiver. This is no different than anyone else I've worked with over the last 20 years."
And then it was over.
"I took a walk in Central Park and was back at CBS by 5, and they shuttled me back to the airport," she said.