In the news: Poli Sci student's presidential quest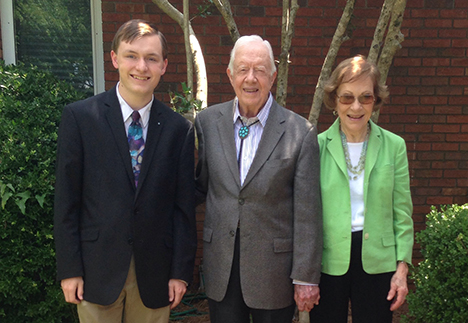 UIndy sophomore Tyler Knierim poses with Jimmy and Rosalyn Carter in June, during his fifth meeting with the former president. Also a big fan of the Bush family, he has photos with scores of political figures, as well as the occasional astronaut.
America's college sophomores are surely finding endless ways to spend the summer — earning money, hanging with friends, keeping the couch warm — but those options didn't satisfy UIndy's Tyler Knierim.
The 19-year-old Political Science major is cruising the nation this year to visit every presidential library he can reach and be photographed with any noteworthy political figure who consents to pose with him. His ongoing quest caught the attention of a news reporter last week in Iowa, even amid the hubbub of the 2016 presidential campaign.
"Politics are my passion," Knierim told the writer from the Cedar Rapids Gazette, who bumped into him at an event for presidential candidate Mike Huckabee. Read the story here.
So far this summer, Knierim's destinations have included the George H.W. Bush, George W. Bush and Lyndon B. Johnson libraries in Texas, the Harry S. Truman Library and Museum in Missouri and the Herbert Hoover Presidential Library and Museum in Iowa, where he also made time to meet folks like Huckabee and fellow White House contenders Lyndsey Graham, Martin O'Malley and Ben Carson. You can see the photos on his Facebook page, typically accompanied by enthusiastic captions ("Me with Former National Security Advisor Brent Scowcroft!!!").
On these missions, which honor his late grandfather, Knierim often travels alone, though occasionally with friends, he tells UIndy News.
"I have well over 50 photos of me with former presidents, vice presidents, senators, governors and other political figures," Knierim says. (In fact, he visited UIndy in 2014, while still in high school, to meet former senators Richard Lugar and Sam Nunn.)
Up next in August is the Jimmy Carter Library and Museum in Georgia — where he hopes to meet the former president for the sixth time — followed by the Gerald Ford (Michigan) and Dwight Eisenhower (Kansas) libraries. With UIndy classes starting Aug. 31, the Ronald Reagan and Richard Nixon libraries (both in California) will have to wait until the holiday break in December.
Down the road, Knierim plans to pick up his bachelor's degree after just three years at UIndy and enroll in the Bush School of Government and Public Service at Texas A&M. It is named for his personal hero, George H.W. Bush.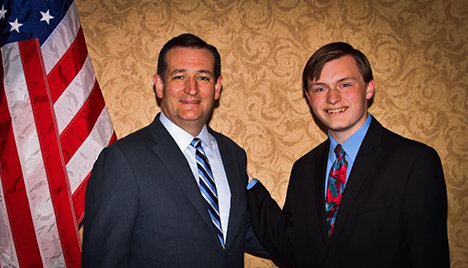 Tyler Knierim enjoys a moment in June with senator and candidate Ted Cruz.