Sept. 5 charity bike ride starts at UIndy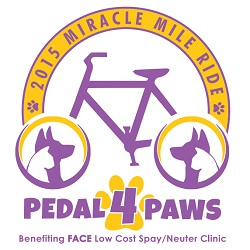 Cyclists and animal lovers, take note: UIndy is the launching point and a key sponsor for the third annual "Pedal 4 Paws" Miracle Mile Ride, with all proceeds supporting FACE Low-Cost Animal Clinic.
The ride is part of the annual Gateway Fest & Labor Day Miracle Mile Parade festivities, a celebration of the Southside's past and future taking place Saturday, Sept. 5. Cyclists of all skill levels are welcome to join in the fun, departing from campus at 10:45 a.m. and leading the start of the parade at 11 a.m. before continuing on to their choice of a 14-mile route or a 47-mile route.
Registration begins at 9 a.m. in the parking lot behind UIndy's new Health Pavilion at Hanna and State avenues, where animal rescue groups and pet-friendly businesses will be on hand with information. The $15 standard registration cost will go to FACE, which provides Indianapolis' only high-volume spay-neuter service for cats and dogs, as well as low-cost vaccines and walk-in medical care for pets. UIndy students can register online for just $10 using the discount code "uindy5."
Learn more and register for the ride at www.miraclemileparade.com.