UIndy archives fuel WFYI Hudnut special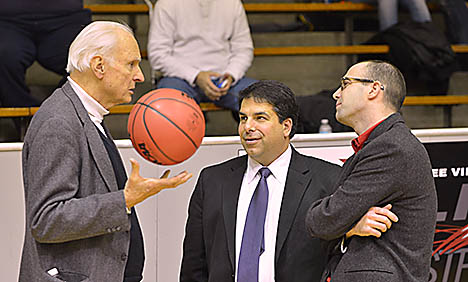 Former Indianapolis Mayor Bill Hudnut chats with UIndy President Robert Manuel and Mayoral Archives Director Edward Frantz at a Greyhound basketball game.
The University of Indianapolis' Mayoral Archives play a key role in a new TV special about former Indianapolis Mayor Bill Hudnut, premiering at 7:30 tonight on WFYI-TV 20.
Twilight Reflections, Evening Meditations features a recent interview with the city's longest-serving mayor (1976-1992) by John Krull, host of the WFYI-FM public affairs talk show No Limits. Hudnut, praised for his efforts to revitalize the city, is among the former mayors who have donated their papers and assisted in the establishment of the Mayoral Archives, which are accessible online at uindy.archivestree.com.
To supplement the interview footage, the WFYI producers selected photos and materials from the archives with the assistance of Associate Professor Ted Frantz, director of the Institute for Civic Leadership & Mayoral Archives; head archivist and curator Mark Vopelak; university archivist Christine Guyonneau; and Krannert Memorial Library Director Matthew Shaw.
Trailers for the special can be seen here and here. After tonight, the program will air again at 5 a.m. Friday on WFYI and 10:30 p.m. Monday on WFYI digital channel 20.3.