In the news: Greyhound football kickoff
The 2015 football season opens at 7 p.m. Thursday when the Greyhounds host Saginaw Valley State at Key Stadium, and the Indianapolis Star previewed the action today with a prominent profile of two key starters and their "special connection."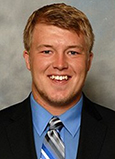 As the story notes, quarterback Connor Barthel and wide receiver Reece Horn, teammates since their days at Cathedral High School, are suiting up for their ninth season together.
"Because of those nine seasons, I just know where he's going to put the ball," says Horn, last year's Great Lakes Valley Conference Offensive Player of the Year. "And he can put the ball where I can make the biggest play." Read the Star story here.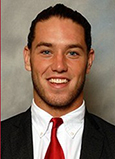 Horn, a senior Sport Management major with a minor in Business Administration, is closing in on the program's career receiving record. Barthel, a Sport Management grad now pursuing an MBA, already holds the all-time UIndy records for single-game, season and career completion percentage. Head coach Bob Bartolomeo's squad are the reigning GLVC champs and are favored to repeat this year.
For those who can't attend in person, a free video stream of the game be seen at theIndyChannel.com and with the RTV6 app. UIndy's own WICR 88.7 FM/HD will carry the game live on the air and at WICRonline.com/listen-online.
Read the UIndy Athletics website's game preview here, and see more about Greyhound football here. Also, look for an interesting battle next week when the Greyhounds face Marian University for the first time in an event dubbed "The Monumental Matchup."