Campus Conversation explores space planning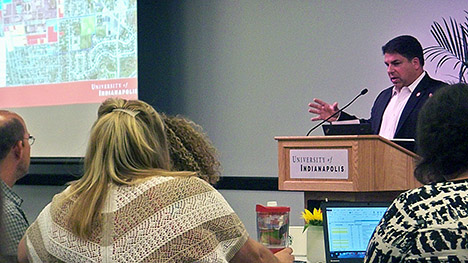 President Robert Manuel and top staffers presented information, fielded questions and stoked discussion about space needs and planning Wednesday during the first of several "Campus Conversations with the President," which have been scheduled this academic year for the UIndy community to learn about and weigh in on key issues facing the university.
About 40 faculty and staff members participated in the hour-plus session in UIndy Hall A, discussing security, parking and their own wish lists for the new facilities and renovations emerging from the Vision 2030 strategic planning process.
Upcoming conversations and topics for faculty and staff include:
Dec. 12: Recruitment
Jan. 21: University Reputation & Brand Management
Feb. 25: Retention
March 31: Academic Programs
April 27: General Topics/Q&A
For students, a Q&A and discussion of general topics is scheduled Oct. 29.
Those interested in attending any of the remaining conversations are asked to register in advance at this link, which also has details on times and locations.