Rehab center opens with help from UIndy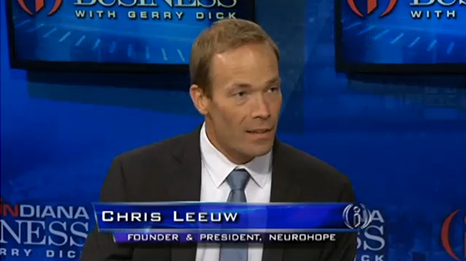 Indiana's first long-term rehabilitation center for brain and spinal cord injuries is open for business in Fountain Square, thanks to some input and space provided by UIndy and its Krannert School of Physical Therapy.
After more than a year of fundraising and preparation, NeuroHope now offers part-time hours in the Southeast Community Services Center at 901 Shelby St., where UIndy maintains a presence.
NeuroHope founder and President Chris Leeuw appeared this weekend on Inside Indiana Business to report on the center's progress.
"The Krannert School of Physical Therapy has been huge for us," Leeuw told host Barbara Lewis. "They've been a huge champion from the beginning." Watch the full interview here.
Paralyzed in an accident five years ago, Leeuw regained his independence through treatment at a Utah clinic that provides long-term rehabilitation even after health insurance payments run out. His vision was to start a similar center in Indiana, with a financial model that allows clients to pay reasonable out-of-pocket rates for long-term therapy.
NeuroHope's lead therapist is Nora Foster, who earned her Doctor of Physical Therapy degree at UIndy.
Leeuw is still seeking financial support to expand hours and services at the center. Learn more about NeuroHope here.