INHP dedicates new branch near campus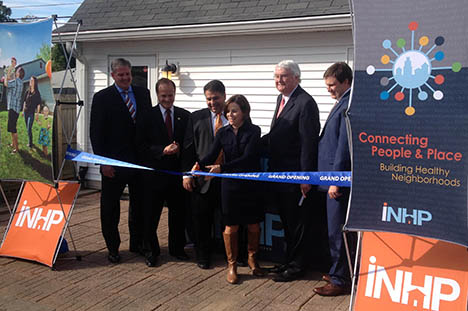 Community partners including UIndy President Robert Manuel (third from left) join Indianapolis Neighborhood Housing Partnership President Moira Carlstedt in officially opening the organization's new branch on the north side of campus.
UIndy President Robert Manuel was among the dignitaries on hand today to cut the ribbon at the Indianapolis Neighborhood Housing Partnership's new southside branch, located on the edge of campus on National Avenue, in a renovated house leased from the university.
The not-for-profit INHP revitalizes neighborhoods by helping families obtain affordable loans to buy and maintain homes, among other services. Its arrival aligns with UIndy's strategic plan, which calls for new development and partnerships that enhance quality of life not only for the campus community but also for neighbors in the surrounding area.
The university is among the community partners who helped the organization locate its fourth Indianapolis branch in the neighborhood, and Dr. Manuel serves on its Board of Directors. INHP President Moira Carlstedt expressed gratitude in her remarks.
"We're grateful to Rob and his team, who were quite proactive about calling INHP and saying, 'It's time. We'll help you. We'll help you find a place. We'll help you turn that place into a home that is really designed to incentivize and encourage and motivate the families who come to INHP to fulfill their dreams of long-term, successful home ownership," Carlstedt said.
Over the next three years, INHP expects to serve more than 1,300 local families through the new branch, and the group has raised more than $500,000 in donations to support that effort. More information is available at www.inhp.org or (317) 610-HOME.