UIndy team wins Celadon case competition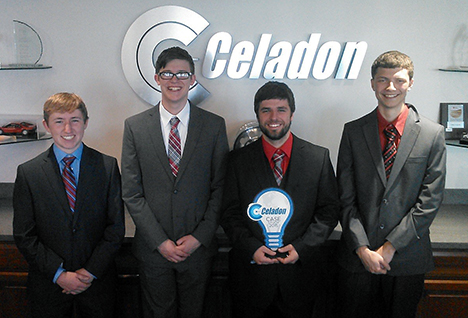 The winners of the 2015 Celadon Case Study Competition were UIndy students (from left) Chris McKeown, Nicholas Williams, Casey Brock and Tyler Johnson.
A student team from UIndy claimed top honors and a $1,000 prize in the 2015 Celadon Case Study Competition, an annual event that challenges Indiana college students to tackle real issues facing the transportation and logistics industry.
UIndy freshmen Chris McKeown and Nicholas Williams and sophomores Casey Brock and Tyler Johnson pulled off a surprise win in an 11-team field that included a more experienced squad from their own institution as well as representatives of IUPUI, Franklin College, and Ball State, Butler and Indiana State universities.
"They were probably the youngest people in the competition," said faculty adviser Tom Parker, an assistant professor of Operations & Supply Chain Management. "They were just going to get some experience, and they ended up winning it."
Celadon Trucking organizes the competition each year to give students an opportunity to network with upper management and explore internship and full-time employment opportunities with the company.
The teams in this year's competition were given background information Oct. 8 on a reality-based case involving supplier relationships. The following morning, they received a tour of the Celadon campus and a chance to talk with management about the case. On Saturday, Oct. 10, they returned and made their presentations to a judging panel of industry professionals, who assessed each entry in terms of professionalism, visual presentation, overall content and responses to the judges' questions.
Dr. Parker, who spent more than 15 years in the automotive and durable goods industries before joining the UIndy faculty five years ago, sponsors the School of Business' Supply Chain Club and student chapter of APICS, the premier professional association for supply chain and operations management. He has sent at least one team to the Celadon competition for each of its three years and also leads teams to the larger APICS Great Lakes District Student Case Competition that takes place each February in Chicago. A UIndy team placed fifth among 25 teams in last year's APICS competition.
McKeown, a graduate of Hamilton Southeastern High School in Fishers, is majoring in Finance. Williams, a graduate of Rensselaer Central High School, is majoring in Accounting. Brock, a graduate of Eminence Junior-Senior High School, is majoring in Business Administration. Johnson, a graduate of Southwestern Junior/Senior High School in Hanover, is majoring in Computer Science.
"This team was a very self-starting team," said Parker, who may take the winners to Chicago in February as a second team. "I recruited two of the members, and they filled the rest of the team on their own."