'King Lear' is homecoming for Theatre alums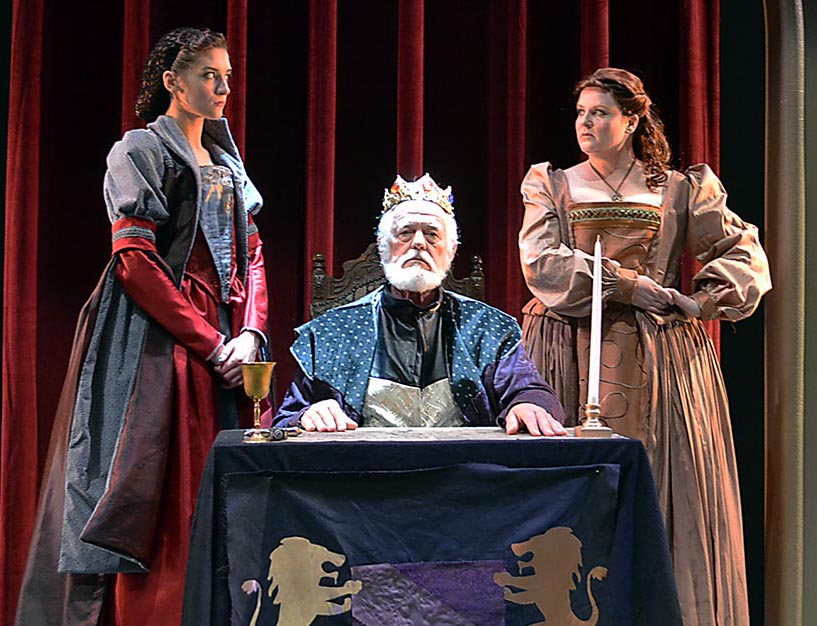 From left, UIndy senior Morgan Jackson, Associate Professor Jim Ream and 1997 graduate Jenni White are among the cast of King Lear, with weekend performances Friday through Oct. 31 at Ransburg Auditorium. A free sneak preview performance is set for 8 p.m. Thursday.
Veteran professor-actor-designer to play title role in classic tragedy
Shakespeare first brought Jim Ream to the University of Indianapolis, and four decades into his parallel careers in higher education and professional scenery and lighting design, Shakespeare is bringing him back to the stage.
Ream, associates professor and past chair of the UIndy Department of Theatre, will share the spotlight with many of his current and former students as the university presents an alumni-packed production of King Lear, one of the Western world's great theatrical tragedies.
Performances are at 8 p.m. Oct. 23-24 and 29-31, with a free preview at 8 p.m. Thursday, Oct. 22, and a matinee at 2 p.m. Oct. 25. Admission is free for UIndy students, faculty and staff; $12 for the general public; and $10 for alumni, senior citizens, groups of eight or more, and non-UIndy students with ID. Tickets may be reserved at www.uindy.edu/arts/ETC or (317) 788-3251.
The story is set in ancient Britain, as Lear (Ream) faces retirement and the need to divide his kingdom among his three daughters, portrayed by current students Morgan Jackson, Jenni White and Ellie Delap. As the family dynamics play out unexpectedly, the tale ends in death and madness. The production is directed by department chair Brad Wright with assistance from junior MacKinsey Taylor.
The cast of 21 also features a number of UIndy alumni and former students, making the production a sort of homecoming for the Theatre program. Many of them active in local and regional stage work, they include Kirk Fields '90, Lucy Fields '91, Barry McFarlane '04, Jennette McFarlane '07, Jenni White '97, Nathan Pellow '13, Daryl Hollonquest '15 and former students Manny Casillas and Sam Fain.
"It's great to touch base with them and see where they are and what they're doing," Ream says. "It's a wonderful opportunity to mix our students with our alumni, and the alumni have been very impressed with the students."
Ream is well known in the regional theater community, having acted in and designed scenery and lighting for hundreds of productions not only at UIndy but for other professional and community theater groups throughout the Midwest. His awards have included a gold medallion from the Kennedy Center for service to the Kennedy Center American College Theatre Festival. He also is known around campus for emceeing and designing the production of major events such as commencement and inauguration ceremonies.
Having first acted in King Lear as an undergraduate in Missouri, Ream was pursuing a master's degree at Christian Theological Seminary in the early 1970s when he heard that Indiana Central – now known as UIndy – was staging a production.
"I talked to the director and found out that if I took a class, I could audition," he recalls. Ream took that class, which led to part-time and soon full-time teaching and a long, continuing career at UIndy.