Student activities director wins regional honor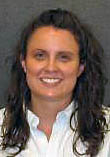 Stephanie Barry, UIndy's director of student activities, received the 2015 Outstanding Professional Staff Member Award over the weekend at the National Association for Campus Activities Mid America Regional Conference in Grand Rapids, Mich.
The award recognizes higher-education staffers who have demonstrated innovative service, creativity and commitment to the profession, the NACA and their own institutions, as well as showing support and regard for students and being viewed by colleagues as educators, among other criteria. They also must exhibit involvement in and contribution to campus activities, which Barry surely has done since joining UIndy as student activities coordinator in 2010. She was named director in 2013.
"Being recognized for my work in student activities by my colleagues and students at UIndy, as well as my colleagues within the association, is an absolute honor," Barry said.
NACA's Mid America region spans Michigan, Indiana, Ohio, West Virginia, Kentucky and Illinois. Barry has served on the organization's Regional Conference Planning Committee for more than five years, served as graduate intern coordinator for this year's conference and will be the volunteer development coordinator for the 2016 conference.
She was nominated for the honor by junior psychology major Ben Lawson, vice president of the Campus Program Board. In his recommendation letter, he credited Barry with inspiring him to join and take leadership roles in multiple student organizations.
"Steph Barry's dedication to students is second to none in my opinion," he wrote. "For an individual who has been given so many roles to fulfill and responsibilities to manage, Steph does a sublime job of being available to students and working one-on-one with them to create an environment for both fun and success."