Summer 2016 courses available for viewing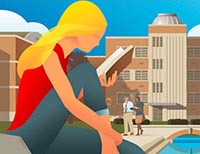 Applications are being accepted now for summer classes at the University of Indianapolis, where more than 200 undergraduate courses will be available in a compressed, affordable format that helps students advance academically while still enjoying a break from their regular schedules.
Whether enrolled full-time at UIndy or other institutions, students take summer courses to get ahead in their studies, graduate on schedule and open up time to take special electives during their fall and winter semesters — not to mention meet new people and reconnect with friends from high school.
UIndy's summer catalog includes courses in the arts, business, education, health sciences, humanities and physical and social sciences, with many online options available. Students can expect personal attention in small classes, and the campus is just minutes away from Indianapolis' vibrant downtown.
Summer programs at UIndy also include a range of youth camps in sports, the arts and enrichment subjects, as well as a menu of facilities and services available for conferences and special events.
More information is available at uindy.edu/summer, where students can check back for new courses and camps as they become available.