High schoolers to get head start on college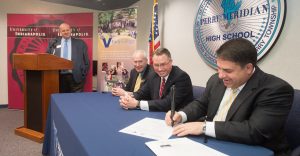 From left at today's announcement are Perry Meridian High School Principal Rolland Abraham, Perry Township Superintendent Thomas Little Jr., Vincennes University President Chuck Johnson and UIndy President Robert Manuel.
UIndy, Vincennes University, Perry Meridian High School
announce partnership on new '1+3' Early College program
In the news: WISH-TV, Inside Indiana Business, University Business
A growing number of Indianapolis teens can begin their transition to college and career during freshman year of high school – and at low cost – thanks to an innovative three-way partnership between Perry Meridian High School, Vincennes University and the University of Indianapolis.
The three institutions today announced the 1+3 Program, which enables qualifying students on Perry Meridian's Early College track to graduate from high school with a 30-credit General Studies Certificate from VU. Students who complete the program and meet admissions standards will be accepted directly into UIndy with at least one year of General Education credits already in hand, providing the opportunity to complete a bachelor's degree with only three years of further study.
"Making post-secondary education more affordable and accessible is an ongoing initiative at the University of Indianapolis, and we specifically are committed to elevating the quality of life for our neighbors in this part of the city," said UIndy President Robert Manuel. "This partnership provides tremendous value for local families, and we look forward to replicating the model with other high schools."
Students bound for Perry Meridian receive information about the Early College Program while in eighth grade. Though all are eligible to apply, the program specifically targets those who have the potential to succeed in college, as indicated by reading scores and other skills, but may not consider themselves suited for a traditional four-year experience. The high school, which launched its program with last year's freshmen, is building toward a goal of 125 students at each of the four grade levels. Students who pursue additional credits even have the potential to earn an associate's degree.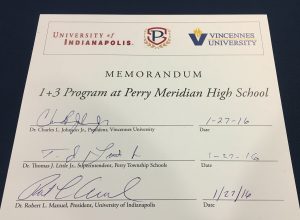 To create the 1+3 Program, the partnering institutions collaborated in designing a targeted catalog of dual-credit courses that Perry Meridian students can take for just $25 per credit hour if instructed by a credentialed high school teacher, free for students who quality for free or reduced-price lunch. Some courses may be taught by VU instructors at $75 per hour.
"This really continues to put Perry Township Schools on the cutting edge when it comes to partnering with higher-ed institutions and offering our students alternate paths to getting their college degrees," said Perry Township Superintendent Thomas Little Jr. "We can help save them and their parents the cost of one or two years of college."
The course requirements for the high school students meet the standards of both universities, and the courses will be reviewed annually and updated to ensure currency and relevance. The partners will share data on student performance to track the effectiveness of the program.
VU has 14 Early College partnerships throughout Indiana, customized to meet the needs of each school corporation and its students. Within each high school, VU's Early College program creates a small-school environment in which faculty can collaborate more easily and students are well known by their peers and instructors. This 1+3 Program is VU's first such partnership with a private university.
"Thanks to innovative thinking by VU administrators and our partners at Perry Meridian and the University of Indianapolis, the students of Perry Township will have a guided and accelerated path to earn credentials from two of Indiana's best higher education institutions," said VU President Chuck Johnson. "This is another example of how VU, through our Early College partnerships, is improving college access and affordability for thousands of Hoosier families."
Part of VU's Early College model is "Xmester," a two-week summer course and residential experience for high school seniors that takes place on its campus, offering a true taste of college life and easing the transition to post-secondary education. UIndy's involvement gives students the option to complete Xmester in Indianapolis, which is more convenient for students from Perry Meridian and other local Early College programs that partner with VU, including Center Grove High School, Ben Davis University High School, Area 31 Career Center and Central 9 Career Center.
The 1+3 Program builds upon an ongoing relationship between UIndy and Perry Township Schools that includes field experiences and student teaching placements for UIndy education majors, UIndy-led science workshops and other outreach programs for Perry Township students and families, and Perry Township administrators serving on UIndy advisory boards.
UIndy's Center of Excellence in Leadership of Learning (CELL) is designated as the sole organization in the state that can train, support and endorse official, high-quality Early College High Schools in partnership with the Indiana Commission for Higher Education. Since 2003, CELL has led the implementation of the Early College model in Indiana by providing professional development opportunities and technical assistance to a network of high schools and communities. CELL has provided initial training and ongoing support to Perry Meridian High School since 2013.
"We are excited to see a private institution like UIndy partner for the first time with longtime Early College advocate VU to embrace this powerful model and make a strong commitment to accelerate Perry Township students toward postsecondary success," said Tyonka Perkins, CELL's Director of Early College.
Perry Meridian Principal Rolland Abraham said the 1+3 Program helps to complete the vision that led him and his staff to establish their Early College Program.
"This is a unique three-way partnership, to have a four-year institution like the University of Indianapolis partner with us and Vincennes University to help students take a major step forward on their path to a college diploma," he said. "This program will actually help some students, who hadn't considered going to college, to get a college degree. It can really broaden their horizons."
About Perry Township Schools
Given an A rating by the state Department of Education, Perry Township Schools in Indianapolis is the ninth largest and one of the fastest-growing and most diverse K-12 public school districts in the state of Indiana. It has over 15,000 students and more than 1,700 employees. There are two high schools, two middle schools, two sixth grade academies and 11 elementary schools. Perry Township is also home to one of the country's largest Burmese refugee populations, making the district one of the top English Learner school districts in the state with more than 4,300 students considered English Learners. Our high schools offer 24 AP courses and 20 dual-credit courses.
About Vincennes University
Founded in 1801, VU is Indiana's first college and the only college in the nation founded by an individual who would later become President of the United States, William Henry Harrison. VU is state-supported, with campuses in Vincennes, Jasper and elsewhere. In addition to offering a wide range of associate degree and certificate programs, VU also offers bachelor's degree programs in technology, homeland security, nursing, secondary education programs in mathematics and science, and special education/elementary education. More information is available at www.vinu.edu.
About the University of Indianapolis
Since 1902, the University of Indianapolis has been committed to education for service. Today, 5,400 students are enrolled in respected undergraduate, masters and doctoral programs in the health sciences, arts, sciences, business, education and engineering, with an average class size of 17 providing a student-centric interdisciplinary and experiential learning environment. Located minutes from downtown, UIndy is a community anchor, elevating quality of life for all while connecting students with the internships, culture, recreation and community service opportunities available in a vibrant metropolitan atmosphere. The recently launched Campaign for UIndy will create new opportunities for students, faculty and the future, advancing education as well as social mobility and the health of communities. More information is available at www.uindy.edu.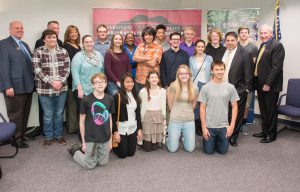 Leaders from the three partner institutions pose for photos with Perry Meridian students after today's announcement at the high school near UIndy.
CONTACTS:
University of Indianapolis: Scott Hall, (317) 371-5240 or schall@uindy.edu
Perry Township Schools: Rick Hightower, (317) 789-3976 or rhightower@perryschools.org
Vincennes University: Duane Chattin, (812) 888-4164 or dchattin@vinu.edu