Super Tuesday: UIndy students want substance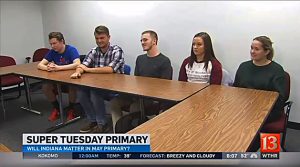 Facing their first opportunity to vote in a presidential election are UIndy students (from left) Dominic Peretin, Tanner Alexander, Tanner Steele, Taylor Carpenter and Daisy Gray.
An informal panel of UIndy students Monday called for less rancor and more substantive debate in the 2016 presidential election.
Speaking with WTHR reporter Kevin Rader, the first-time voters — volunteers from Political Science classes — expressed concern about the tone of the discourse and the focus of the news coverage.
"Where are the policy issues?" asked freshman Taylor Carpenter. "Where are the issues that we really need to be talking about?"