Greyhound Village: It's getting real in there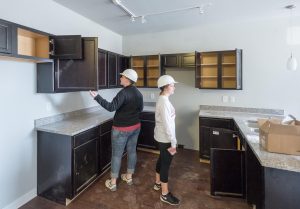 Roommates Alexis Kersey (left) and Makenzie Mick check out the kitchen decor during a recent hard-hat tour of Greyhound Village, the 480-bed apartment building taking shape at the northwest corner of campus.
After months of viewing digital renderings and watching the construction from afar, the UIndy community can now see and touch tangible examples of life in Greyhound Village, which will bring an entirely new housing option to campus when it opens later this year.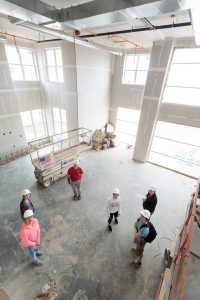 On Tuesday the project's furniture provider, ULoft, will park its mobile showroom outside Schwitzer Student Center from 6 to 8 p.m., offering a chance to see the planned furnishings and pick up a free sub sandwich from Jimmy John's. Residence Life staff will available inside Schwitzer to discuss campus housing options and assist with lease signings.
For those seeking a closer look, hard-hat tours of the Shelby Street building are taking place at 2 p.m. Tuesdays and 5 p.m. Thursdays. Tour spots must be reserved in advance through marketing manager Zach Brown at zach@greyhoundvillage.com.
Greyhound Village, which is open to students who will turn 20 years old by Jan. 15, 2017, still has a range of floor plans and leasing options available. More information can be found at greyhoundvillage.com. For further questions on UIndy housing options, contact housing assignments coordinator Mary Craft at (317) 788-3530 or mcraft@uindy.edu.
Aside from fully furnished apartments with private bathrooms and laundry appliances, Greyhound Village will feature a fitness center, a study room, an outdoor lounge and fire pit, sand volleyball courts and a clubhouse and commons area with lounge space and a game room.