New master's degrees target HR, construction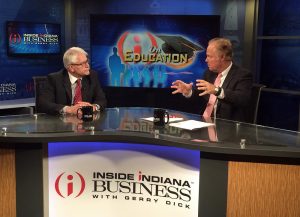 Business Dean Larry Belcher discusses the new Master of Professional Studies programs on Inside Indiana Business with Gerry Dick. Click the image to watch.
Accelerated evening courses designed for working professionals
New evening degree programs at the University of Indianapolis will help employers cultivate leaders within their organizations and tap the skills of military veterans and other career changers.
The UIndy School of Business is accepting applications for two Master of Professional Studies degrees that will launch in August: Human Resource Development & Administration and commercial Real Estate Development & Construction Management. Accelerated 7½-week courses offered in a hybrid online/on-site format will enable students to complete the requirements in five terms while still working full time at their current jobs.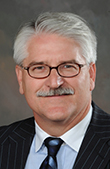 The courses differ from standard master's programs in their emphasis on practical skills and applied learning rather than theory and research, said Larry Belcher, professor and dean of the School of Business.
"The curriculum is really project-based, not the traditional learn-from-the-book, take-a-test approach," Belcher said. "And because these are cohort-based programs that group together people with different backgrounds and career paths, students learn from one another as well as from the material presented."
Many classes will be taught by industry professionals, and each of the two new degree tracks will be guided by an industry advisory board that will provide input on curriculum as well as connections to internship and employment opportunities.
"We want to combine the academic experience with the experience of people who have been working in the field," Belcher said. "We're going to enlist their help in developing and maintaining the curriculum, to make sure it is current and reflects industry practice. At the same time, they're going to be able to provide opportunities for students in those industries when they complete their degrees."
Each concentration represents a growth industry in Indiana, Belcher said. Human resources skills are increasingly in demand in a broad range of fields, from retail and manufacturing to health care and financial services. According to the Bureau of Labor Statistics, human resources managers nationwide earned a median salary of $102,780 in 2014, and the field was projected to grow by an above-average 9 percent, adding nearly 11,000 jobs by 2024. The UIndy program will foster such skills as recruiting, training, talent development, performance management, record-keeping and benefits administration.
Likewise, real estate development and construction management are fast-growing fields with a broad range of career opportunities. Indianapolis is a Top 5 national market for commercial construction, with a boom in residential development downtown and mixed-use development in the suburbs. The courses will cover such topics as financial analysis, appraisal, markets, construction design, project management and contract negotiation.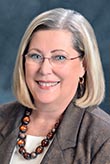 UIndy has a strong track record of developing tailored programs to meet student and workforce needs, said Deborah Balogh, executive vice president and provost.
"The Master of Professional Studies is a targeted solution to issues that face mid-career professionals and their employers in Indiana's growth industries," Balogh said. "By enabling middle managers to advance through the ranks, and helping engineers and other technical experts prepare for greater management responsibility, we can create the new generations of leadership our economy needs."
More information is available at uindy.edu/business/hr and uindy.edu/business/realestateconstruction.