Undergrad research projects draw notice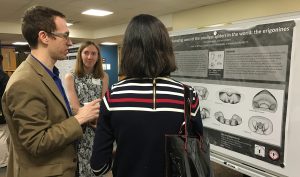 Fresh UIndy graduate Elizabeth Wells (center) discusses her arachnid illustrations with faculty members Marc Milne and Jen Camden during the recent Scholars' Day.
Apparently Elizabeth Wells is very good at drawing microscopic spider parts, because The Field Museum in Chicago has posted her work online for use by scientists around the world.
Wells graduated magna cum laude from UIndy's Strain Honors College on Saturday with a bachelor's degree in Pre-Medical Illustration. But before she did, she created the illustrations for a Biology honors project under Assistant Professor Marc Milne, using pen, pencil and a dissecting microscope.
These particular spiders, the erigonine subfamily of the Linyphiidae family, are smaller than 2 mm across and therefore are difficult to identify. To do so, arachnologists must use microscopes and compare the creatures to existing photos or illustrations. Posted among a gallery of such photos taken by the museum staff, Wells' detailed illustrations can be seen here.
*               *               *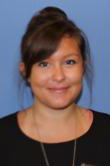 Payton Butler, who just finished her sophomore year majoring in Entrepreneurship, Experience Design and Human Resources Management, has a paper published in the latest volume of the Butler Journal of Undergraduate Research.
The title: "Why Do Boys Love Frozen, a Disney Princess Movie?"
Based on her research, Butler attributed the film's runaway success to savvy writing and marketing designed to broaden the audience beyond young females, including focused advertising, exciting action scenes, appealing humor and a higher-than-usual ratio of male to female characters. Read more about it here.
The work began in a First-Year Seminar course taught by Associate Professor of Teacher Education Greta Pennell, who points out that the journal's acceptance rate is only 25 percent.