Event celebrates faculty and staff experience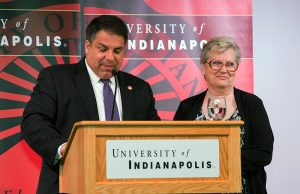 At Friday's 2016 Celebration Dinner, President Robert Manuel introduces university archivist Christine Guyonneau, who is retiring after 29 years at UIndy.
Nearly 600 years of experience and service were recognized last week when UIndy hosted the 2016 Celebration Dinner, honoring faculty, staff and administrators who have reached career milestones or are retiring this year.
The honorees and their guests and admirers enjoyed a meal, conversation and award presentations Friday in UIndy Hall.
Bidding farewell, at least to full-time work at UIndy, were the following retirees, listed with their years of full-time service to the university:
Cheryl Conces, Assistant Professor and Undergraduate Program Director, School of Nursing, 16 years
Dr. David Dresslar, Executive Director, CELL, six years
Yvonne Edwards, Administrative Assistant, Krannert School of Physical Therapy, 11 years
Dr. Robert Gobetz, Associate Professor, Communication, 23 years
Marie-Christine Guyonneau, University Archivist, 29 years
Roberta Hurst, Graduation Coordinator, 15 years
Myra Maxwell, Instructor & Director of Remedial Study, 28 years
Dr. Frederick May, Associate Professor, School of Nursing, 17 years
Mary McCoy, Assistant Professor, School of Nursing, 10 years
Marilyn McElwain, Assistant Professor, Art & Design, 15 years
Peter Noot, Executive Communications Strategist, Communications & Marketing, 38 years
Susie Oliver, Assistant Professor, School of Nursing, 22 years
Other UIndy employees honored for reaching service milestones were:
25 YEARS
Dr. William Dynes, Shaheen College of Arts & Sciences
Dr. L. Leslie Gardner, Mathematics and Computer Science
Daryl Gibbs, Center for Advising & Student Achievement
Jane Hoffman, Copy Center
Deborah McGary, English, Philosophy & Religion
V. Lynn Moran, Health & Wellness Center
Dr. Stephen Nawrocki, Biology and Anthropology
Sandra Osborne, Financial Aid
Ronald Wilks, Admissions
30 YEARS
Lucie Cassinelli, Enrollment Services
Elizabeth Kiggins, Assistant Professor and Instructional Technologist, Faculty Learning/Design Studio
35 YEARS
James Russell, Physical Plant
40 YEARS
Frank Green, Physical Plant