Departing chaplain honored for service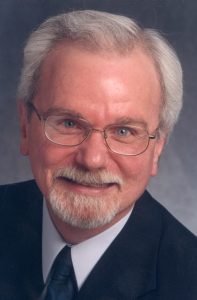 The Rev. Dr. Lang Brownlee is stepping away from his role as a chaplain at UIndy, but not without some recognition for his 15 years of service.
Brownlee, who will continue to teach courses in the Department of Philosophy & Religion, received UIndy's Jerry Israel Interfaith Service Award last week at a reception to mark his change in roles. The award recognizes faculty and staff who have helped develop an interfaith community at the university in which people of diverse backgrounds can share their respective faith traditions. Brownlee has been a key leader of initiatives including UIndy's annual Interfaith Peace Service and an annual service trip to improve housing for impoverished residents of Appalachia.
But that's not all: On Friday, at the 2016 Indiana Annual Conference of the United Methodist Church, Brownlee received the statewide Francis Asbury Award, which recognizes contributions to the church's higher education and campus ministries.