Greyhound standout lands Pacers workout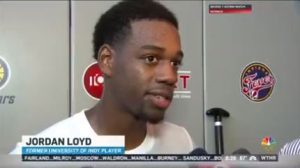 Recent UIndy graduate Jordan Loyd has been all over the news this week after being invited to join in the Indiana Pacers' pre-draft workout Wednesday at Bankers Life Fieldhouse.
The Environmental Sustainability major from Atlanta enjoyed a strong senior season with the Greyhounds, shooting over 50 percent from the field and averaging 20.9 points, 6.3 rebounds and 2.5 assists.
Though he doesn't necessarily expect to be called in the June 23 draft, Loyd is laying the groundwork for a pro hoops career.
"I just want to show everybody that I belong here and that I belong in the NBA as well," he told WISH-TV and NBA.com as he reflected on his college years. "It was awesome. I love UIndy. Coach (Stan) Gouard and the staff are great people, look out for you, even to this day. I graduated, and they're still looking out for me, so they'll be lifelong people I can always come to and talk to."
Here are just a few places to learn more and watch interviews with Loyd:
WTHR-Channel 13
WISH-TV
WXIN/Fox59
WTTV/CBS4
NBA.com
Pacers.com
UIndy Athletics